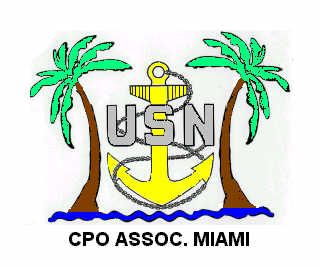 May 2013 Meeting Minutes
Chief Petty Officers Association of Miami, Inc.
Thursday, May 2, 2013
Meeting called to order by Chief Karen Leonard: 1930.
Pledge of Allegiance and Moment of Silence.

Officers:
Ř President: ITC Karen Leonard, USSOUTHCOM
Ř Vice President: BMCM Chuck Robertson, Retired
Ř Secretary: CTI2 Gayle Malone
Ř Treasurer: OSCS Ronald B. Roy, Retired
Honorable members and guests present:
| | | |
| --- | --- | --- |
| OSCS Ron Roy | BTCM(SW) Paul LaCoursiere | YNCM Marc Fagenbaum |
| ADJ3 Harvey Cohen | BMC Ira Paul | QMCS Ken Larson |
| CTOCS Alan Starr | ITC(SW/AW) Karen Leonard | AEC(A/C) Dave Cohen |
| HMC Rick Tedlow | HMCS Jorge Herrera | RMC Paul Douglas |
| BMC(SS) Mike Short | CTI2 Gayle Malone | |
Minutes from the Previous Meeting. Motion to accept minutes and amended bylaws as posted. Duly seconded and approved.
Treasurer's Report: Senior Chief Roy reported Fleet Week expenditures include t-shirs $2,000, $60 for stamps, and refund from South Florida Video. Have refunded donations although some donors returned them. Current balances: Checking $12,663.11, Savings $3145.69, Money Market $10,206.46. Motion to accept Treasurer's report. Duly seconded and approved.
Committees:
· Race – (Mike Short/Norm Powell) – NTR
Scholarship

– (Rick Tedlow)
· NTR.
Philanthropy

– (Norm Powell)
· Chief Powell reported no local chapter for Wounded Warrior. Flowers were sent to MAC Saunier's mother. Navy Safe Harbor specifically for Navy.
Ship Liaison

– (Al Starr)
· Senior Chief Starr now vice-chair of Broward Navy Days. Fleet Week will be salute to local active duty military personnel. Sunday salute to WWII veterants at Broward performing Arts Center. May 31st salute and Memorial Day services at cemetery on SR84. BMCM Lou Kitchen retiring June 7th at Coast Guard Station Port Everglades. Navy League honoring SOY June 14th at Pier 66, $25 per person.
· Induction – (AJ Drago/Chris Marcello)
· NTR.
· Awards – (Dave Cohen/Mike Short)
· NTR
Old Business:
· Ring has been ordered. Cost $1,650. Hope to have presentation soon.
· Bylaws accepted as posted.
· Events for year:
o June Bowling at Manor Lanes, Sunday, June 23rd beginning at 1300. Manor Lanes Bowling and Sports Den Pub. 1517 NE 26th Street, Fort Lauderdale, FL 33305 (954) 566-7457. $3.00 per person/per game. CPOA will pay for 1st game and shoe rentals for all paid members. Families invited but must pay for all games and shoes.
o July fishing. Chief Tedlow still researching.
o August 8th David Alan Grier at Seminole HardRock. @2000 Improv at the Seminole Hard Rock Café. CPOA will buy the drinks for paid members. Members only buy ticket(s). Guest must pay for ticket and drinks. Deadline is 15JUN to sign up with Ron. Must pay for ticket after 15JUN if you cannot go.
o December Holiday Cruise. See details on agenda.
New Business:
· Navy Safe Harbor. Motion to donation $1,000. Duly seconded and approved.
· Dinner cruise. Need to consider type of party and venue before next month. Suggestions include Chuck's Steakhouse, Chimi's, or a dinner cruise.
Good of the Order:
· RETIREMENT: Lou Kitchin retires June 7, 2013 after 33 years of service and will be moving to FT Myers. Retirement will be at Station Fort Lauderdale. Mark Mello retiring May 17th. Summer Whites.
· Southcom Navy Ball October 11th on Windridge Yachts.
Motion to adjourn: 2056. Duly seconded and passed.
//SIGNED//
CTI2 Gayle Malone
MIAMI CPOA Secretary