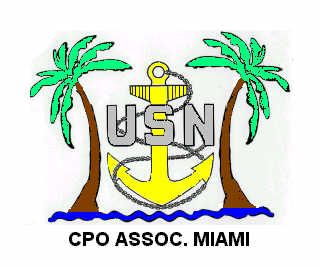 April 2018 Meeting Minutes
Chief Petty Officers Association of Miami, Inc.
Thursday, April 5, 2018
Meeting called to order by Master Chief Chuck Robertson: 1930.
Pledge of Allegiance, Sailor's Creed and Moment of Silence in honor of Chief Kevin Graham.
Officers:
Ø President: BMCM Chuck Robertson
Ø Vice President: MAC Sergio Sandoval
Ø Secretary: ATC John Silva
Ø Treasurer: OSCS Ronald B. Roy, Retired
Ø Master-at-arms: MAC Sergio Sandoval
Honorable members and guests present
| | | |
| --- | --- | --- |
| BMCM Chuck Robertson | HMC Rick Tedlow | |
| CTOCS Alan Starr | AEC David Cohen | |
| OSCS Ronald Roy | ISC Roxy Hall | |
| ATC John Silva | QMCS Ken Larson | |
| HMC Scott Behrse | MRC Donald Steffenson | |
| BTCM Paul LaCoursiere | ETC Rick Schuchman | |
| BMC Ira Paul | YNC Robin Viebiano | |
| HMC Norman Powell | MMC/SS Michael George | |
| HTC Ryan Visage | ADC Albert Durso | |
| NCC Vilma Rosario | BMC(SS) Michael Short | |
| RMC Paul Douglas | | |
| ADJ-3 Harvey Cohen | | |
Minutes from the Previous Meeting. Motion to accept minutes as posted. Duly seconded and approved.
Treasurer's Report: Senior Chief Roy reported no outstanding checks. The current bank accounts stand as follows:
Checking Account balance: $10,030.78
Savings Account: $3,184.60
Money Market Account: $50,955.61
Grand Total: 64,170.99
Outstanding deposit: $0.00
Duly seconded and approved. Note that dues are payable now.
Committees:
Race : BMC Short: NTR
Scholarship: HMC Tedlow, announced applications are due in July- August 2018. Requirements for applications are listed on the CPOA Miami website.
Philanthropy: HMC Norman Powell, announced a flower arrangement was sent to the funeral of Kevin Graham. Family gift cards were also donated. Get well card was donated for former Secretary Gayle wishing her mother gets well soon.
Sea Service Veterans Assistance: NTR
Ship Liaison: Senior Chief Starr reported the ships participating during Fleet Week currently scheduled from 30 April to 6 May are the following: USS Kearsarge (LHD 3), USS Hue City (CG 66), USS Detroit (LCS 7), USCGC Confidence, USCGC Robert Yered and the USCGC Willow. Unfortunately ships tours are current fully booked. The only way to secure a ship's tours is to contact someone serving on-board any of the ships with the hope of securing a tour. The CPOA will host the entire CPO Mess.
CPO365 : HTC Visage announced NRD Miami will hold CPO 365 training Friday April 6th. Topics to be covered: Fraternization and CPO LTB and package. NOSC Miami to hold CPO 365 training Saturday April 7th at 1600 in the Naval Aviation museum.
MWR: Chief Sandoval will be taking over as MWR representative. A bowling game is scheduled for June 24th. Paid members are free and guest will be $10.00. Special thanks to Chief Drago for organizing the Chief pride and CPO 365 training at the Naval Aviation museum. Trip to Key West was proposed for April 20th and did not passed since it coincides with Chief Rainey's retirement. A vote determined the CPOA will not partake in this year's trip to Key West.
Awards: BMC Short NTR
CRYC: NTR
Old Business: Chief Sandoval announced the deal for the stockless anchor is scratched since we missed the deadline. Christ Rainey retirement will take place on April 20th in Veteran Park in Port St. Lucie. Gayle Malones' Mom who is 94 years old, sustained several injuries after falling. She continues to recuperate. Next CPOA meeting was proposed for May 10th.
New Business: BMC Short proposed a motion to spend $500.00 for cigars. Motion passed. BMC Short also proposed to identify a volunteer to draft a newspaper article on behalf of the CPOA. MAC Sandoval graciously volunteered to draft the article.
Good of the Order: NOSC Marines to conduct a fund raising event Saturday at 1100. Items offered include a burger burn and car wash.
Motion to adjourn: 2043
//SIGNED//
ATC John Silva
MIAMI CPOA Secretary