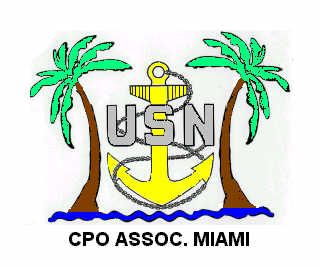 August 2018 Meeting Minutes

Chief Petty Officers Association of Miami, Inc.

Thursday, August 2, 2018
Meeting called to order by Master Chief Chuck Robertson: 1930.
Pledge of Allegiance, Sailor's Creed and Moment of Silence.
Reminder it is Pearl Harbor Day
Officers:
Ř President: Master Chief Robertson
Ř Vice President: HMC Rick Tedlow
Ř Secretary: ATC Silva
Ř Treasurer: OSCS Ronald B. Roy
Ř Master-at-arms:
Honorable members and guests present:
| | | |
| --- | --- | --- |
| BMCM Chuck Robertson | HMCS Jorge Herrera | |
| HMC Rick Tedlow | YNCM Marc Fagenbaum | |
| OSCS Ronald Roy | OSC Kerida Barnes | |
| ATC John Silva | CMDCS Gary Rosenberg | |
| HMC Norman Powell | OSSC Harry Pellish | |
| RMC Paul Douglas | | |
| MMC/SS Michael George | | |
| DCC Nelson Anestor | | |
| QMCS Ken Larson | | |
| BMC (SS) Mike Short | | |
| MMC Christopher Marcello | | |
| BTCM(SW) La Coursiere | | |
Minutes from the Previous Meeting. Motion to accept minutes as posted. Duly seconded and approved.
Treasurer's Report: Senior Chief Roy reported the following:
Outstanding Checks: check# 998 for $1609.00 and check#999 for 169.00
Checking Account balance: 13, 397.59
Savings Account: $3,187.26
Money Market Account: $51,083.47
Grand Total: $67,668.32
Duly seconded and approved. Note that dues are payable now.
Committees:
Race : Chief Short reminded all members there are four months remaining prior to the next NASCAR race. Signing up and all paperwork will take place a month prior and information will be posted on the website. We need all hands on deck for this event so feel encourage to bring your significant others, friends and family as long as they are 18 years old or older. Anyone who volunteers two days will get the rooms and meals provided. For all E6 and below Sailors who volunteer EVAL bullets will be provided for their performance evaluations. Remember this is a "Four Day" event and we need all the help possible.
To sign up please visit our website: http://www.cpoamiami.com/Leader_Frame.htm
Awards: NTR
Scholarship: Chief Tedlow announced the third scholarship was awarded to Meghan Hall. Please remind applicants all paperwork must be completed and submitted by June 30th.
Philanthropy: Chief Powell announced flowers were sent to Dannielle Niglio after undergoing a medical procedure. The CPOA also plans to send a flower arrangement to Nathalie Cohen as soon as she gets out of the ICU.
Sea Service Veterans Assistance:
Ship Liaison: NTR
Sailor 360: CMDCS Rosenberg announced Sailor 360 will encompass year around training for all E6 and below Sailors. Phase II is once again referred to as Initiation as it was in the past. ABHCS Sweeney announced preparations for the upcoming Season. Khaki participation has been low for the current CPO Initiation. Chiefs are invited to find ways to participate and support the current Initiation. Training will be conducted at the NOSC on Saturday August 4th from 1200 to 1400.
MWR: All events are advertised on our website: www.cpomiami.com
Holliday dinner party will take place on Tropical Acres on December 8th at 1800. The price will be $25.00 per person and the uniform will be summer whites. Please look at our website http://www.cpoamiami.com/Leader_Frame.htm for information on the following events:
1. September 18th Mai Kai Restaurant located at 3599 North Federal Highway Fort Lauderdale, FL 954-563-3277. The cost will be Cost: $47.00 per person and includes appetizer, entrée, dessert and show.
2. October 14th Costume Bowling: Costumes are required to win a prize Prizes and will be awarded to one boy and one girl (child) CPOA individual, CPOA couple or any first class eligible going up for chief on the next cycle. Location TBD.
CRYC: NTR
VA Liaison: NTR
Fund Raising: NTR
Old Business: Camp Blanding dates are currently August 22 thru August 24. Anyone interested in making a reservation the current rate is $25.00. Anyone interested is making a reservation please contact Master Chief Robertson.
New Business:
1. The CPOA Treasurer announced CPOA dues are due in August. The dues are $20.00.
2. BMC Mike Short suggested to invite First Class Petty Officers to attend CPOA meeting and invite them to participate in our events in order to bring awareness about the CPOA. The majority of the CPOA members rejected that option.
3. BMC Mike Short also announced he has shirts available for sale.
4. CMDCS Gary Rosenberg requested $200.00 to sponsor a Family Day on Sunday August 4th . Motion passed.
5. MMC Marcello is the team captain for the AFSP walk in honor of our fallen CPO Kevin Graham.
Please look at our website http://www.cpoamiami.com/Leader_Frame.htm if you are interested in joining or donating. If you have any questions please contact MMC Marcello.
Good of the Order: NTR
Motion to adjourn: 2035