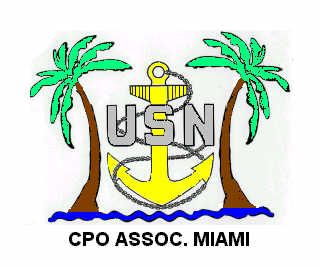 December, 2018 Meeting Minutes
Chief Petty Officers Association of Miami, Inc.
Thursday, December 6, 2018
Meeting called to order by Master Chief Chuck Robertson: 1930.
Pledge of Allegiance, Sailor's Creed and Moment of Silence.
Reminder it is Pearl Harbor Day
Officers:
Ø President: Master Chief Robertson
Ø Vice President: Chief Rick Tedlow
Ø Secretary: Chief John Silva
Ø Treasurer: Senior Chief Ronald B. Roy
Ø Master-at-arms:
Honorable members and guests present:
| | | |
| --- | --- | --- |
| BMCM Chuck Robertson | RMC Paul Douglas | NDC Dan BAssillcantillo |
| CTOCS Alan Starr | NCC Eddie Montoya | HMC Monica Soto |
| OSCS Ronald Roy | DCC David Stuart | BMC Mike Short |
| HMC Rick Tedlow | NCC Buck McTee | ISC Roxy Hall |
| ATC John Silva | MACS Tanya Tyson | Chief Nick Niglio |
| QMCS Ken Larson | YNCM Marc Fagenbaum | |
| BTMC Paul La Cousiere | CTOCS Alan Starr | |
| ADJ-3 Harvey Cohen | HMCS Jorge Herrera | |
| HMCM Richard George | ITCS Grisel Marrero | |
| MHCS Benoit Billini | MAC Evelio Martinez | |
| UTCS Ron Zasloff | ABHCS Miguel Sweeney | |
| MMC Michael George | NCC Sandra Kmball | |
Minutes from the Previous Meeting. Motion to accept minutes as posted. Duly seconded and approved.
Treasurer's Report: Senior Chief Roy reported ## outstanding checks.
Checking Account balance: $9,451.43
Savings Account: $3,189.94
Money Market Account: $51,220.20
Duly seconded and approved. Note that dues are payable now.
Committees
Race :
$58,000 made but waiting for bill from rooms. Check still pending. Thank you to everyone that came out to support the race event. BMC Mike Short announced 11 months away from the race.
Scholarship : NTR
Philanthropy:
Will pass the Helping Hand Christmas gift cards out to those attending the CPOA holiday dinner Saturday night.
VA Liaison:
Master Chief Robertson paid $158.00 to a Veteran going through hardships. The money will be used to for the electric bill. The balance in the VA Liaison account is currently $667.00. We will determined in January if the funds will be replenish to the original $1000.00
Ship Liaison:
Next meeting for Fleet Week is in January. No large deck slotted to come. Five Navy ships and three Coast Guard ships slotted to come. The Chief's reception is scheduled for the Tuesday of Fleet Week.
Commissioning of DDG 117 Paul Ignatious will be July 21st, 2019. Chief's mess will be hosting and conducting a reception.
Expressed his appreciation for the holiday gift cards
Cordially invited everyone to a pinning ceremony for one of the Sea Cadets is scheduled for Saturday December 8th at 0900 in the Sea Cadet building, to follow by the holiday lunch.
Sailor 360: Senior Chief Sweeney announced Chief Ocampa (NOSC Miami) conducted the first Sailor 360 training. Next training will be sent out. January will be the first meeting for the season.
MWR:
CPOA holiday part will be Saturday at 1800, at Tropical Acres $25 per person and one gift per couple for the Chinese giveaway. Mike Short donated two bottles for the holiday party. As with all events remember to sign up on the website.
January18th Panthers military appreciation event.
Saturday February16th Jungle Cruise event. Details to come. Key West trip in April 26th, 27th and 28th email will be sent. Buck had free tickets to the FARA event this weekend.
Awards: NTR
CRYC: NTR
Old Business:
·
We still have 16 shirts at $20 each leftover from the season. $1600 was the cost, only $1425 recouped.
Fundraising POC is transferring in six months. Nothing scheduled at this time.
New Business:
John Silva is having a hard time getting volunteers for fund raising a football events, will be serving food in the luxury box. Email will be sent.
Officers Voted in:
President: Ron Zasloff
VP: Nick Hernandez (Rick Ted low while Nick is deployed)
Treasurer: Ron Roy
Secretary: John Silva (Roxy Hall while John is out)
Master At Arms: Nick Niglio
Wreaths Across America December 15th, Summer Whites. Pompano will be supported by Ken.
West Palm Beach PO3 is medically retiring; motion passed to donate $500 for the retirement ceremony.
NROTC High School fundraiser, motioned for $250 donation, modified and passed with $100 donation.
36 NASCAR tickets donated for the members of the CPOA…enjoy it!!
Monica looking for volunteers for Toys for Tots sorting. She will put out the info.
Can vote next year on amount and cards per command for the holiday cards given every Thanksgiving and Christmas.
Good of the Order: NTR
Motion to adjourn: 2032