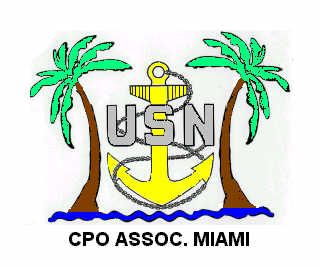 February, 2018 Meeting Minutes
Chief Petty Officers Association of Miami, Inc.
Thursday, February 1, 2018
Meeting called to order by Master Chief Chuck Robertson: 1930.
Pledge of Allegiance, Sailor's Creed and Moment of Silence.
Officers:
Ø President: BMCM Chuck Robertson
Ø Vice President: MAC Sergio Sandoval
Ø Secretary: ATC John Silva
Ø Treasurer: OSCS Ronald B. Roy, Retired
Ø Master-at-arms: MAC Sergio Sandoval
Honorable members and guests present
| | | |
| --- | --- | --- |
| BMCM Chuck Robertson | HMC Rick Tedlow | |
| CTOCS Alan Starr | MMC Christopher Marcello | |
| OSCS Ronald Roy | YNCM Marc Fagenbaum | |
| ATC John Silva | RMC Paul Douglas | |
| QMCS Ken Larson | MKC Donald Steffenson | |
| BTCM Paul LaCousiere | QMC Arthur Drago | |
| BMC Ira Paul | MACS Tanya Tyson | |
| HMC Normal Paul | Chief Buck McTee | |
| YNCS Amy Broadus | EMC Michael Pandegraft | |
| YNC Dequierio "Que" Butler | ISC Frantz Exantus | |
| CMDCS Gary Rosenbery | ADC Albert Darso | |
| HTC Ryan Visage | | |
Minutes from the Previous Meeting. Motion to accept minutes as posted. Duly seconded and approved.
Treasurer's Report: Senior Chief Roy reported no outstanding checks. The current bank accounts stand as follows:
Checking Account balance: $10,311.98
Savings Account: $3,183.31
Money Market Account: $50,893.89
Grand Total: 64,893.18
Duly seconded and approved. Note that dues are payable now.
Committees:
Race : NTR

Scholarship: Applications are due in July 2018

Philanthropy: NTR

Sea Service Veterans Assistance: NTR

Ship Liaison: Senior Chief Starr reported the ships participating during Fleet Week are the USS Kearsarge, USS Hue City, USS Forest Sherman and the USS Detroit. For ship tours please visit the website: www.broawardnavydaysinc.org

CPO365 : Chief Pendegraft announced the first CPO 365 training to be held Friday February 2nd 2018.

MWR: Master Chief Robertson announced that activities such as the Cruise and trip to Key West are not looking very good due to various reasons. Master Chief also announced a separate option involving a cruise making a stop in Key West. The price of the cabin is $748.00 for two people. In order to solidify this trip a minimum of eight cabins must be sold.

Awards: NTR

CRYC: NTR


Old Business: MAC Sandoval announced the American Legion Post 164 has a park location to place a stockless anchor acquired through contacts by Chief Sandoval. The legion is willing to pay for half the transportation cost, which at this time is $6200.00. The Legion also contacted the city in order to contribute with laying a cement slot in where to lay down the anchor. Negotiations continue and approval pending further details.
New Business: Chief Buck McTee proposed several ideas to celebrate the Chief's birthday April 1st. Ideas continue to be reviewed.
Good of the Order: Master Chief Robertson proposed for all members to be more proactive in announcing Chief's retirements. It was agreed by all members that all attempts should be made to attend to as many ceremonies as possible to show support to our Brothers and Sisters.
Chief Buck McTee announced his involvement with the American Military Veterans Foundation project in where fishing rods are custom made and designed. These fishing rods make great gifts. See Chief McTee for designs and prices.
Motion to adjourn: 2020