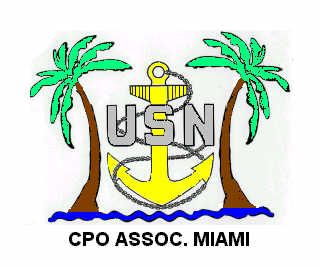 January 4, 2018 Meeting Minutes
Chief Petty Officers Association of Miami, Inc.
Thursday, January 4, 2018
Meeting called to order by Master Chief Chuck Robinson: 1930.
Pledge of Allegiance, Sailor's Creed and Moment of Silence.
Officers:
Ø President: BMCM Chuck Robertson
Ø Vice President: MAC Sergio Sandoval
Ø Secretary: ATC John Silva
Ø Treasurer: OSCS Ronald B. Roy, Retired
Ø Master-at-Arms: MAC Sergio Sandoval
Honorable members and guests present:
| | | |
| --- | --- | --- |
| BMCM Chuck Robertson | HMCS Jorge Herrera | |
| AEC (A/C) Dave Cohen | HMC Rick Tedlow | |
| OSCS Ronald Roy | HMC Kevin Graham | |
| ATC John Silva | MAC Sergio Sandoval | |
| MMC/SS Michael George | | |
| YNCM Marc Fagenbaum | | |
| MKC Donald Steffeson | | |
| Stan Bostic | | |
| BMC Paul Ira | | |
| QMCS Ken Larson | | |
| BTCM (SW) Paul LaCousiere | | |
| BMC(SS) Michael Short | | |
Minutes from the Previous Meeting.
Motion to accept minutes as posted. Duly seconded and approved.
Treasurer's Report:
Senior Chief Roy reported the Current Checking Account balance is $9,641.53, Savings Account $3,182.63 and $50,861.63 in the Money Market Account. The grand total is $63,685.79. Motion to accept report. Duly seconded and approved.
Committees:
Race :
BMC Short expressed gratitude for those who volunteered for the NASCAR race, highlighting their hard work and commitment.
Scholarship:
Applications are due in July
Philanthropy:
HMC Powell reported the following via e-mail:
1. CPOA sent $500.00 to the Armed Forces Service Center for the holidays. This amount was an addition to the quarterly check. HMC Soto also helped coordinate games and toys to the center for visitors to enjoy during their stay. Special thanks to Chief Soto for her contributions.
2. Get Well Cards sent to Stella Malone, mother of Gayle Malone our past Secretary. Stella was in the hospital during the holidays, but she is recovering. The CPOA also sent a rose arrangement and Gayle expressed her mother love it.
YN2 Rodriguez, Danilo sent a thank you note, expressing gratitude to the CPOA for the Publix gift card.
Sea Service Veterans Assistance: NTR
Ship Liaison:
Fleet Week will take place 30 April-6 May. The Ships assigned will be the USS Kearsarge in addition to two DDGs, one submarine and a Coast Guard Cutter. Duly seconded and approved.
CPO365:
Representatives are Chief Raul Rodriguez and Chief Jose Torres
MWR:
Master Chief Robertson reported the holiday dinner went well and 34 persons attended. The CPOA will hold a bowling event on Sunday January 14th at 2PM. The location is the Manor Lanes in Wilton Manor. To sign up see website for details: www.cpoamiami.com
MAC Sandoval will assume the duties of MWR representative.
Awards :
VA Liaison: Master Chief Robertson nominated and accepted to continue fulfilling the role as VA Liaison in addition to his duties as CPOA President.
CRYC: NTR
Old Business:
MAC Sandoval announced the American Legion Post 164 has a park location to place a stockless anchor acquired through contacts by Chief Sandoval. The legion is wiling to pay for half the transportation cost, which at this time is $6200.00. The Legion also contacted the city in order to contribute with laying a cement slot in where to lay down the anchor. Negotiations continue and approval pending further details.
The trip to key West is pending further details.
New Business:
VA Impress to fund the Broward County chapter with $2000.00 per quarter. However, the Chapter will be issued initially $1000.00 at the beginning of each quarter and the rest of the funds will be allocated as requested.
Good of the Order:
MACS Steve Rose's Retirement E-invitation
Saturday, January 6th, 2018 @ 1530
Location: Navy Operational Support Center West Palm Beach
1227 Marine Drive, West Palm Beach, Florida 33409
Please use e-Invite link to RSVP, so they know to expect you.
https://einvitations.afit.edu/inv/anim.cfm?i=374395&k=0166460A7252


Motion to adjourn: 2020. Duly seconded and passed.
//SIGNED//
ATC John Silva
MIAMI CPOA Secretary