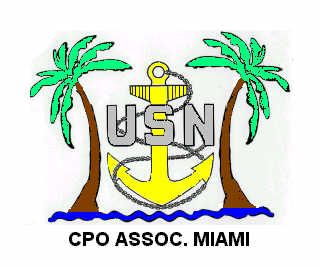 July 2018 Meeting Minutes
Chief Petty Officers Association of Miami, Inc.
Thursday, July 12, 2018
Meeting called to order by Master Chief Chuck Robertson: 1930.
Pledge of Allegiance, Sailor's Creed and Moment of Silence.
Reminder it is Pearl Harbor Day
Officers:
Ø President: Master Chief Robertson
Ø Vice President: HMC Rick Tedlow
Ø Secretary: ATC Silva
Ø Treasurer: OSCS Ronald B. Roy
Ø Master-at-arms:
Honorable members and guests present:
| | | |
| --- | --- | --- |
| BMCM Chuck Robertson | ADC Albert Durso | QMCS Ken Larson |
| HMC Rick Tedlow | MMC/SS Michael George | ABHCS Miguel Sweeney |
| OSCS Ronald Roy | Chief Buck McTee | BTCM(SW) Paul LaCoursiere |
| ATC John Silva | MACS Tanya Tyson | OSC Kerida Barnes |
| HMC Monica Soto | ISC Roxy Hall | NDC Dan Bassillcantillo |
| CTOCS Allan Starr | ITC Henry Matthews | CMDCS Gary Rosenberg |
| HMC Norman Powell | ITC Brown "Tye" | HMCS Billini Benoit |
| AWCM Rodney Lewis | BMC (SS) Mike Short | |
| ETC Rick Schucman | CTOCS Alan Starr | |
| MMC Chris Marcello | HTC Ryan Visage | |
| ETC Nick Niglio | NCC Vilma Rosario | |
| RMC Paul Douglas | MCC Donald Steffenson | |
Minutes from the Previous Meeting. Motion to accept minutes as posted. Duly seconded and approved.
Treasurer's Report: Senior Chief Roy reported the following:
Outstanding Checks: Check# 993 to Sgt. Scott for $1,000.00
Checking Account balance: 18,506.41
Savings Account: $3,186.58
Money Market Account: $51,050.95
Grand Total: $72,743.94
Duly seconded and approved. Note that dues are payable now.
Committees:
Race : Chief Short reminded all members there are five months remaining prior to the next NASCAR race. Signing up and all paperwork will take place a month prior and information will be posted on the website. We need all hands on deck for this event so feel encourage to bring your significant others, friends and family as long as they are 18 years old or older.
Awards: NTR
Scholarship: Two applications were submitted, reviewed and accepted. One scholarship was awarded to Arthur Drago Jr. and the other one went to Erin Zazloff. Master Chief Robertson re-emphasized that out of the three scholarships available only two have been awarded and one is still available. We must seek qualified applicants in an effort to maximize this opportunity. Look at the website for rules and regulations in regards to the scholarship.
Philanthropy: Chief Powell announced to be a quiet month for philanthropy. Please inform the CPOA if you know of anyone undergoing any medical procedure in order to lend all assistance and possible support.
Sea Service Veterans Assistance: With Chief Drago for Japan Master Chief Robertson proposed to unify the Sea Service Veterans Committee with the VA Liaison Committee. Chief McTee set a motion and passed. As a results both committee are now unified into one committee.
Ship Liaison: Senior Chief Starr proposed to hold a moment of silent in honor of Ensign Sarah Mitchell who lost her life on July 8th 2018 while conducting small boat operations on-board the USS Jason Dunham. Senior Chief Starr also made the following announcements: (1) The USCGC Eagle will visit the Port of Miami from July 27th to the 30th and she will be open for tours to the public. This is wonderful opportunity to have members of the public experience this historic ship. (2) A meeting was held on Tuesday July 10th in order to discuss preparations for the FY19 Fleet Week. The US Navy is leaning toward only sending two to three DDGs and possibly not sending any big ships.
(3) The City of Ft. Lauderdale is currently competing with three other cities for the honor of becoming the home port for the USS Paul Nitze and look forward to a commissioning on July 2019. On a personal note Senior Chief Starr happily announced that he and his beautiful Wife Rosalind P. Starr just celebrate their 50th wedding anniversary… Congratulations!!
CPO365: Master Chief Robertson asked the CPOA members if anyone could explain the new status of CPO365. CMDCS Rosenberg explained that CPO365 is now Sailor 360 and will encompass year around training for all E6 and below. CPO365 Phase II is once again referred to as Initiation as it was in the past. ABHCS Sweeney announced preparations for the upcoming Season. With only one FTS member currently selected the plan is to kick off the Season right away. Saturday July 14th the Selectee will go over his orders and Tuesday July 17th he will have his meet and greet. The Selectee is GM1(Sel) Enrique Castro. Preparations are currently in progress in order to have one shirt for the entire South Florida CPO Mess, which will be finalized during the second week of the Season. Chief Visage announced that the Active Duty results should be released the first Wednesday of August and the Shack and Awe is currently planned for Friday, August 3rd in the VFW Cape Coral from 1600 to 2000. A closer venue is still in consideration depending of the home location of the majority of the Selects. The scheduled days for Blanding will be August 21, 22 and 23. Chief McTee asked if anyone from the CPOA is making arrangements for room reservations during Blanding. The following members will be attending Camp Blanding: Master Chief Robertson (Ret), ETC Nick Niglio, MACS Tanya Tyson, NCC Buck McTee (Ret), ISC Roxy Hall, ITC Henry Matthews, YNCS Amy Broadus, ITC Samuel Brown and BTCM LaCousiere (Ret). NDC Bassilcantillo informed the CPOA training plans for GMC(Sel)Henriquezcastro stressing the importance of conducting proper mentoring despite the fact that he was the only selected.
MWR: Chief Tedlow will in addition to the duties as CPOA Vice-President will also assume the duties as MWR Representative. The fishing trip "Drift Fishing on Sea Legs III in Dania" is scheduled for July 21st at 0745. Cost for members is $20.00 and $40.00 for guest. To sign up visit the website at: http://www.cpoamiami.com/Leader_Frame.htm
Preparations are currently underway to revise the MWR schedule and plan to include a dinner cruise for Valentine's Day on-board the Jungle Queen or a different venue in Fort Meyers. Deals are still in progress and further details will be forwarded. Plans for the Key West trip are also in progress and most likely will be a "Go". CMDCS Rosenberg proposed a proposed to assemble a get together for the Chief's Birthday. Proposals are still being reviewed.
CRYC: NTR
VA Liaison: Master Chief Robertson announced that has requested a total of $288.00 to pay for a Navy Veteran who needed money to pay for his electric bill. During the present quarter the VA Liaison fund has only spent $331.00 dollars. Master Chief Robertson set a motion to reimburse the VA Liaison to the $1000.00 balance. Motion passed.
Fund Raising: Chief Soto announced an event called the Caribbean Music Festival at South Beach. The event will take four days from Friday August 17th to Monday August 20th. During the event we will have the option to raise fund by attending barbecue stands. A Motion was proposed to participate in the fund raising event on Saturday August 18th and Sunday August 19th. Motion passed for the CPOA to fund raise on the two before mentioned dates August 18th and August 19th. Selects will participate and will be entitled to 25 percent of the proceeds.
Old Business: Motion to pass the current CPOA Bylaws. Discussion was enacted by Senior Chief Star in regards to ambiguity with the gift cards with the different commands. Motion for new bylaws passed.
New Business: Chief Buck McTee motioned for $2000.00 to purchase 200 new CPO Pride shirts to be sold for profits. Regardless of the production cost the shits will be sold for $20.00 each. Motion passed. Reminder anyone who volunteers to work in the NASCAR race for two days the hotel will be paid for.
Good of the Order: Senior Chief Starr happily announced that he and his beautiful Wife Rosalind P. Starr just celebrate their 50th wedding anniversary… Congratulations!!
Motion to adjourn: 2042