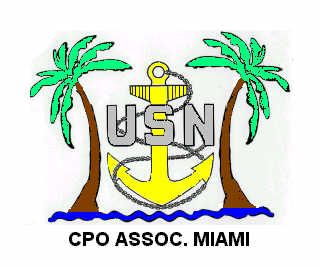 March, 2018 Meeting Minutes
Chief Petty Officers Association of Miami, Inc.
Thursday, March 1, 2018
Meeting called to order by Master Chief Chuck Robertson: 1930.
Pledge of Allegiance, Sailor's Creed and Moment of Silence.
Officers:
Ø President: BMCM Chuck Robertson
Ø Vice President: MAC Sergio Sandoval
Ø Secretary: ATC John Silva
Ø Treasurer: OSCS Ronald B. Roy, Retired
Ø Master-at-arms: MAC Sergio Sandoval
Honorable members and guests present
| | | |
| --- | --- | --- |
| BMCM Chuck Robertson | HMC Rick Tedlow | |
| CTOCS Alan Starr | AEC David Cohen | |
| OSCS Ronald Roy | ISC Rocky Hall | |
| ATC John Silva | ISC Frantz Exantus | |
| QMC Arthur Drago | MKC Donald Steffenson | |
| BTCM Paul LaCousiere | HMC Billini Benoit | |
| BMC Ira Paul | HMC Scott Behrse | |
| HMC Norman Powell | HMC Monica Soto | |
| YNCS Amy Broadus | MMC/SS Michael George | |
| YNCM Marc Fagenbaum | BMC(SS) Michael Short | |
| RMC Paul Douglas | ADC Albert Durso | |
| ADJ-3 Harvey Cohen | | |
Minutes from the Previous Meeting. Motion to accept minutes as posted. Duly seconded and approved.
Treasurer's Report: Senior Chief Roy reported no outstanding checks. The current bank accounts stand as follows:
Checking Account balance: $10,312.38
Savings Account: $3,183.92
Money Market Account: $50,923.17
Grand Total: 64,419.47
Outstanding deposit: $7,071.00
Duly seconded and approved. Note that dues are payable now.

Committees:
Race : NTR
Scholarship: Applications are due in July- August 2018. Requirements for applications are listed on the CPOA Miami website.
Philanthropy: HMC Norman Powell, announced a plaque, awards and flowers were donated on behalf of MM1 Chris Hixon. Two other plaques were donated to the Homestead Air Force Base for their cooperation during the NASCAR race. He also announced that the new Assistant Lodging Manage Dwayne Dyer would be a good point of contact for next year's race.
Sea Service Veterans Assistance: NTR
Ship Liaison: Senior Chief Starr reported the ships participating during Fleet Week currently scheduled from 30 April to 6 May are the following: USS Kearsarge (LHD 3), USS Hue City (CG 66), USS Detroit (LCS 7), USCG (TBD). For ship tours please visit the website: www.broawardnavydaysinc.org.
Commands are to send nominations for their Sailors of The Year for recognition during Fleet Week. More details will be announced during the second scheduled meeting.
CPO365 : NRD Miami to hold CPO 365 training Friday February 2nd.
MWR: Chief Drago proposed organizing a celebration at the Naval Aviation Museum in commemoration of the Chief's Birthday. The celebration will take place on April 7th at 1600. In addition First Class Petty Officers will be invited and CPO 365 training is to be conducted. Entrance fees will be waved, however, donations are encouraged. Attire will be civilian clothes with Navy CPO pride t-shirts.
Master Chief Robertson briefed the association in regards to the 2018 trip to Key West. A vote determined the CPOA will not partake in this year's trip to Key West.
HMC Paul Ira announced the cruise is a go from April 14th to April 17th (Four days and three nights) and the port call will include Nassau and Key West. The price per person is $430.00. To sing up please refer to the website.
Bowling was proposed for June 24th. Paid members are free and guest will be $10.00
Awards: NTR
CRYC: NTR
Old Business: No details in regards to the stockless anchor from MAC Sandoval. Chief Buck McTee proposed several ideas to celebrate the Chief's birthday April 1st. Ideas continue to be reviewed. No further input was provided. Master Chief Robertson proposed for all members to be more proactive in announcing Chief's retirements. It was agreed by all members that all attempts should be made to attend to as many ceremonies as possible to show support to our Brothers and Sisters.
New Business: Motion to design new CPOA shirt passed. Motion to design and order new coins passed. Motion to hold Fleet Week reception in the VFW passed. Motion to donate $100.00 for a kid in the Sea Cadets to purchase uniforms was passed. Motion to donate $200.00 to the Naval Aviation Museum passed.
Members were invited to attend a farewell gathering for Chief Damon Box at a Pub located on 237 SW 145th Terrace, Pembroke Pines at 1730.
Good of the Order: NOSC Marines to conduct a fund raising event Saturday at 1100. Items offered include a burger burn and car wash.
Motion to adjourn: 2043
//SIGNED//
ATC John Silva
MIAMI CPOA Secretary