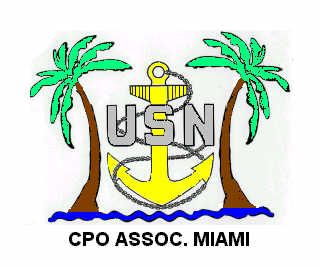 May 2018 Meeting Minutes
Chief Petty Officers Association of Miami, Inc.
Thursday, May 10, 2018
Meeting called to order by Master Chief Chuck Robertson: 1930.
Pledge of Allegiance, Sailor's Creed and Moment of Silence.

Officers:
Ø President: BMCM Chuck Robertson
Ø Vice President: MAC Sergio Sandoval
Ø Secretary: ATC John Silva
Ø Treasurer: OSCS Ronald B. Roy, Retired
Ø Master-at-arms: MAC Sergio Sandoval
Honorable members and guests present
| | | |
| --- | --- | --- |
| BMCM Chuck Robertson | ADC Albert Durso | |
| CTOCS Alan Starr | UTC Garry Chitwood | |
| QMCS Ken Larson | HMCS Billini Benoit | |
| ATC John Silva | ISC Frantz Exantus | |
| FORCM CJ Mitchell | MKC Donald Steffenson | |
| HMC Rick Tedlow | | |
| ADC Cory Irons | | |
| HMC Norman Powell | | |
| HMC Monica Soto | | |
| YNCM Marc Fagenbaum | | |
| MMC/SS Michael George | | |
| BMC(SS) Mike Short | | |
Minutes from the Previous Meeting. Motion to accept minutes as posted. Duly seconded and approved.
Treasurer's Report: Master Chief Robertson reported no outstanding checks. The current bank accounts stand as follows:
Checking Account balance: $13,104.16
Savings Account: $3,185.25
Money Market Account: $50,987.02
Event Account: $6,760.00
Grand Total: 74,036.43
Duly seconded and approved. Note that dues are payable now.
Committees:
Race : Plan ahead for the 2018 NASCAR race. Six months from now.
Scholarship: Applications are due in July 2018 and we have not yet received any applications. Requirements for applications are listed on the CPOA Miami website.
Philanthropy: HMC Norman Powell, announced flowers and cards sent to a few people. Gayle's Mom, continues to recuperate.
Sea Service Veterans Assistance: Chief Drago will be going to Japan for 12 months.
Ship Liaison: Senior Chief Starr reported Fleet Week was a success, to include the venue for the Chief's gathering. Future plaques donated to the Mess will be place in the Sea Cadets building.
CPO365 : NTR.

MWR: Bowling at Manor Lanes will take place on June 24th. Board eligible candidates are to be invited to attend.
Awards: NTR
CRYC: NTR
Old Business: Awaiting for status of newspaper article to be enacted by Chief Sandoval.
New Business: The CPOA is to take ownership of the History and Heritage portion of the PQS in an effort to increase interaction between selectees and retirees. Motion proposed and passed.
Good of the Order: Senior Chief Alan Starr is encouraging everyone to wear uniforms in public during Memorial Day in an effort to increase military presence.
Chief Kevin Matza is retiring Friday May 18th at 1330. Uniform: khakis.
Motion to adjourn: 2023
//SIGNED//
ATC John Silva
MIAMI CPOA Secretary