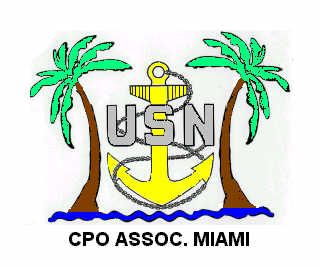 November 2018 Meeting Minutes
Chief Petty Officers Association of Miami, Inc.

Thursday, November 2, 2018
Meeting called to order by Master Chief Chuck Robertson: 1930.
Pledge of Allegiance, Sailorís Creed and Moment of Silence.
Reminder it is Pearl Harbor Day
Officers:
ō President: Master Chief Robertson
ō Vice President: HMC Rick Tedlow
ō Secretary: ATC Silva John
ō Treasurer: OSCS Ronald B. Roy
ō Master-at-arms:
Honorable members and guests present:
| | | |
| --- | --- | --- |
| BMCM Chuck Robertson | UTCS(SW/IW) Ron Zasloff | |
| HMC Rick Tedlow | HMC Scott Behrje | |
| OSCS Ronald Roy | MACS Nicolas Hernandez | |
| ATC John Silva | CTOCS Alan Starr | |
| HMC Norman Powell | ADJ-3 Harvey Cohen | |
| BMC Shawn Philbert | | |
| MMC/SS Michael George | | |
| YNC Robin Viggiano | | |
| QMCS Ken Larson | | |
| BMC (SS) Michael Short | | |
| BMC Ira Paul | | |
| YNCM Marc Fagenbaum | | |
Minutes from the Previous Meeting. Motion to accept minutes as posted. Duly seconded and approved.
Treasurerís Report: Senior Chief Roy reported the following:
Outstanding Checks: check# 1002 for $200.00 and check# 1008 for $1900
Checking Account balance: 10,359.02
Savings Account: $3,189.28
Money Market Account: $51,184.44
Grand Total: $64,732.74
Duly seconded and approved. Note that dues are payable now.
Committees:
Race :
Chief Short announced there are two weeks remaining for NASCAR 2018 November 15-18, 2018. Please look at our website for additional information. An email was sent to all those who volunteered with instructions for the entire event and to access the base. Remember military personnel require a military ID card and civilians need to be sponsored by a military member. Muster time will be at 0700 sharp. BZ to Chief Powell for all the hard work in reserving the rooms for the race.
Awards: NTR
Scholarship: NTR
Philanthropy:
A thank card and happy Veteranís Day cards was received from Chief Tedlow. He graciously, thanked all of us for our service.
Ship Liaison:
Senior Chief Starr reported preparations for the 2019 Fleet Week continue. The next meeting will take place in January 2019. So far we have no solid commitment in regards to the actual number of ships participating in Fleet Week. The commissioning of DDG 117 Paul Ignatious remains on schedule for July 27th.
Those of you not participating in the race, the Navy League of Fort Lauderdale will be hosting a reception on November 18th, from 1600 to 1900 at 1350 East Sunrise Boulevard, Fort Lauderdale 33304. The event will entertain many potential contributors towards the new Sea Cadet building, therefore, it is essential to have max participation from the Chiefís Mess. On a different note, Senior Chief Starr also encouraged everyone to attend a Veteranís Day celebration to be held in Sunrise keeping in mind that this particular anniversary, also commemorates 100 years of the armistice that ended War World I. Look out for many establishments like Golden Corral and Olive Garden offering free dinners and special deals to veterans.
Sailor 360: NTR
MWR:
1. Master Chief Robertson announced the Costume Bowling game on October 14th was a success. All participants enjoyed their time.
2. Holiday dinner party will take place on Tropical Acres on December 8th at 1800. The price will be $25.00 per person and the uniform will be Summer Whites. It is imperative to sign up on the website http://www.cpoamiami.com/Holiday_Dinner/2018_Holiday_Dinner.html indicate your menu choice. Please keep in mind that all members of the CPOA must update the website roster in order to stay abreast with all events sing ups, cancellations and updates. ALL MEMBERS MUST REGISTER IN THE CPOA ROSTER!
Last noteÖ we will hold a Chinese giveaway. Gifts price limit is $25.00.
3. Key West trip was chosen for April 26th, 27th and 28th. With that being said preparations will now begin in order to set rates and prices for the hotels. There are a variety of lodging choices, such as Fly Navy, condominiums and trailers which have being replaced for new ones.
CRYC: NTR
VA Liaison:
Master Chief Robertson reported $175.00 was donated to a Marine that was behind with the VA. The Marine in question requested, $222.00 however, he received $175.00. The money was delivered to the VA council.
Fund Raising: NTR
Old Business:
The CPOA loaned the Season committee $1609.00 to purchase 100 shirts with the intention to repay the CPOA the full amount and retain the profits from the shirt sales. To this date we have 18 shirts remaining. Please, lets continue to promote the sale of these shirts which are currently selling for $20.00 each.
BZ to Chief JeanJacques for putting together the Navy Birthday Ball on a short notice on Saturday October 13th 2018. The event was a success!!

Update the CPOA roster!!
New Business:
The November nominations for new CPOA officers are follows:
President: Chuck Robertson
Vice-President: Nick Hernandez and Rick Tedlow
Treasurer: Ron Roy
Secretary: John Silva
Good of the Order: NTR
Motion to adjourn: 2020