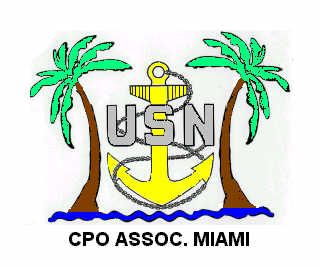 October 2018 Meeting Minutes
Chief Petty Officers Association of Miami, Inc.
Thursday, October 4, 2018
Meeting called to order by Master Chief Chuck Robertson: 1930.
Pledge of Allegiance, Sailor's Creed and Moment of Silence.
Reminder it is Pearl Harbor Day

Officers:
Ø President: Master Chief Robertson
Ø Vice President: HMC Rick Tedlow
Ø Secretary: ATC Silva
Ø Treasurer: OSCS Ronald B. Roy
Ø Master-at-arms:
Honorable members and guests present:
| | | |
| --- | --- | --- |
| BMCM Chuck Robertson | UTCS(SW/IW) Ron Zasloff | |
| HMC Rick Tedlow | NCC Carl Tramel | |
| OSCS Ronald Roy | MMC Donald Steffenson | |
| ATC John Silva | | |
| HMC Norman Powell | | |
| RMC Paul Douglas | | |
| MMC/SS Michael George | | |
| ADC Albert Durso | | |
| QMCS Ken Larson | | |
| BMC (SS) Michael Short | | |
| BMC Ira Paul | | |
| YNCM Marc Fagenbaum | | |
Minutes from the Previous Meeting. Motion to accept minutes as posted. Duly seconded and approved.
Treasurer's Report: Senior Chief Roy reported the following:
Outstanding Checks: check# 1002 for $200.00
Checking Account balance: 10,853.53
Savings Account: $3,188.60
Money Market Account: $51,147.52
Grand Total: $65,189.65
Duly seconded and approved. Note that dues are payable now.
Committees:
Race :
Chief Short announced that we have enough personnel to work in the NASCAR race. He also warned everyone about the difficulties with traffic and to plan ahead.
Awards: NTR
Scholarship:
The CPOA received a thank you letter from Erin Zasloff expressing her gratitude for being awarded the scholarship.
Philanthropy:
Quiet month. Gayle's Mom continues to recuperate.
Ship Liaison:
Senior Chief Starr sent the following reports:
Fleet week: Maybe down to two Navy ships and three Coast Guard vessels. They are scheduled to arrive on April 30th and the CPO reception will be held the same day. Commissioning of DDG 117 Paul Ignatius: She is scheduled to arrive at Port Everglades on July 21st and the commissioning is scheduled for July 27th. Met with Captain, CT CWO and YNCS last week. Informed them we would host the Mess and they loved the idea.

Sailor 360:
Chief Tramel expressed his gratitude to the CPOA for the efforts and support during the Season.

MWR:
1. Stan Bostic announced there will be a gulf tournament to benefits a children's organization on October 26th. Looking for four active duty military to enjoy the tournament. The event will take place in Pembroke Place Gulf Course. Please submit the names of the interested parties as soon as possible. All events are advertised on our website: www.cpomiami.com
2. Holiday dinner party will take place on Tropical Acres on December 8th at 1800. The price will be $25.00 per person and the uniform will be summer whites. The menu will include Sea Bass, stuffed chicken or a choice of fillet mignon. Please look at our website http://www.cpoamiami.com/Leader_Frame.htm and indicate your menu choice.
3. October 14th at 1400 Costume Bowling: Costumes are required to win a prize Prizes and will be awarded to one boy and one girl (child) CPOA individual, CPOA couple or any first class eligible going up for Chief on the next cycle. Location will be at Wilton Manor Lanes 1517 NE 26th Street. Fort Lauderdale. The price is $10.00 for guest and free for CPOA members.
CRYC: NTR

VA Liaison:
Master Chief Robertson announced that we have not spent any money for VA Liaison. We have had zero requests. Master Chief still holds $1000.00 of unused funds earmarked for the VA. Master Chief requested to hold on to the funds until after the holidays in the event a request is made. The money will be returned to the CPOA if no requests are made.
Fund Raising: NTR
Old Business:
The CPOA loaned the Season committee $1609.00 to purchase 100 shirts with the intention to repay the CPOA the full amount and retain the profits from the shirts sales. However, only $1225.00 in cash was returned. The CPOA received 27 left over shirts with the intent to sale in an effort to recuperate the original loan. Chief Silva will hold to the shirts with the intent to sell them.
Navy Birthday Ball will be held on Saturday October 13th 2018. The uniform will be dress blues. The event will be of no cost to retirees.
November will be taking nominations for the CPOA officers. Vacant seats will be President, Vice-President and Secretary.
New Business:
First motion: Senior Chief Starr made a motion for $1000.00 to hold the reception during the commissioning of the USS Ignatius at the VFW. Motion passed.
Second motion: for $2850.00 to purchase gift cards for Thanksgiving and the other half will be used for the Christmas holidays. Motion passed.
Good of the Order: NTR
Motion to adjourn: 2020