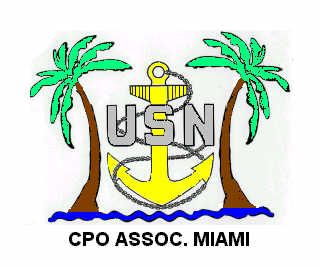 April 2019 Meeting Minutes
Chief Petty Officers Association of Miami, Inc.
Thursday, April 2, 2019
Meeting called to order by Master Chief Chuck Robertson: 1930.
Pledge of Allegiance, Sailor's Creed and Moment of Silence.

Officers:
Ø President: Ron Zasloff
Ø Vice President: Nick Hernandez
Ø Secretary: John Silva/Roxy Hall
Ø Treasurer: OSCS Ronald B. Roy, Retired
Ø Master-at-arms: Nick Niglio
Honorable members and guests present:
| | | |
| --- | --- | --- |
| UTCS Ron Zasloff | MCC Donald Steffeson | |
| CTOCS Alan Starr | HMC Norman Powell | |
| OSCS Ronald Roy | HMC Rick Tedlow | |
| ATC John Silva | ADC Albert Durso | |
| RMC Paul Douglas | ITCS Grisel Marrero | |
| BMCM Chuck Robertson | HMCS Jorge Herrera | |
| CTOCS Alan Starr | | |
| QMCS Ken Larson | | |
| BTCM(SW) Paul LaCousierre | | |
| NCC(SW/AW) Sandra Kimball | | |
| NCCM Heather Charara | | |
| ETC(SW) Nicholas Niglio | | |
Minutes from the Previous Meeting. Motion to accept minutes as posted. Duly seconded and approved.
Treasurer's Report: Senior Chief Roy reported no outstanding checks.
Checking Account balance: $ 17,653.30
Savings Account: $ 3,193.45
Money Market Account: $ 41,349.39
Duly seconded and approved. Note that dues are payable now.

Committee

Race: NTR
Scholarship: NTR
Philanthropy: NTR
Ship Liaison: Alan Starr reported confirmed the ships attending Fleet Week will be the USS New York, USS Way City, USS Farragut, USS Milwaukee, USS Albany and a Coast Guard cutter. The ships will be arriving April 29th. Registration for ships tours opened today April 2nd via website. The CPOA reception is scheduled for Tuesday April 30th and all CPOA members are invited to attend. The Enlisted Sailor of the Year award dinner is scheduled for Thursday May 2nd
Sailor 360: Nick Niglio reported that every Saturday drill weekend Sailor 360 training is conducted from at West Palm 0815 to 0845.
MWR:
Key West Trip:
Taking reservations on April 26 thru April 29. Please see the rates listed below:
Navy Lodge: $104 per night. Cancellation policy 6pm the night before arrival
Fly Navy: Cancellation policy 14 days prior to arrival
Townhomes: $100.00 per night. Cancellation policy 14 days prior to arrival
Trailers: $75.00 per night. Cancellation policy 14 days prior to arrival.
Fishing Jult 13th and July 20th :
Chasin Finz and Sport Fishing Charters
1000 N Ocean Drive Hollywood, FL 33019
754-800-9732
Rates:
$45 per person drift fishing
$85 per person sports fishing, six persons per boat ($500.00 per boat)
Murder Mystery Train Dinner:
2805 Colonial Blvd. Fort Meyers, FL 1-239-308-0886
Wed-Fri: $85.00 Per person
Sat: $90.00
One day package:
Marriot Hotel $286.00. Includes breakfast plus two tickets for dinner/show
Holiday Inn $253.00. Includes breakfast plus two tickets for dinner show.
Sign up on the website
VA Liaison : Master Chief Robertson donated $200.00 to a retired Marine who was late on his rent due to VA pay issues. The VA fund now stands at $800.00
Fund Raising: Looking for someone to take over fund raising
Awards: NTR
CRYC: NTR
Old Business: 2017 Season t-shirt balance was fully paid by NRD Miami. The full amount of the loan has now being paid. NRD Miami owns the t-shirts.
New Business: NTR
Good of the Order: Farewell to Master Chief Charara!!!
Motion to adjourn: 2020