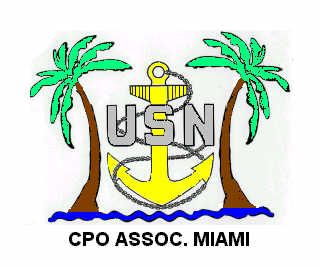 August 2019 Meeting Minutes

Chief Petty Officers Association of Miami, Inc.

Thursday, August 1, 2019
Meeting called to order by UTCS Ron Zasloff : 1932.
Pledge of Allegiance, Sailor's Creed and Moment of Silence.
Officers:
Ø President: Ron Zasloff
Ø Vice President: Nick Hernandez
Ø Secretary: John Silva/Roxy Hall
Ø Treasurer: OSCS Ronald B. Roy, Retired
Ø Master-at-arms: Nick Niglio
Honorable members and guests present:
| | | |
| --- | --- | --- |
| UTCS Ron Zasloff | MKC Donald Steffeson | HMCS Tony Acosta |
| ISC Roxy Hall | OSCS Steve Lowe | CTNC Rick Rickel |
| OSCS Ron Roy | CTOCS Alan Starr | ETC Rick Schuchman |
| BUC Fernando Labrada | BMC Mike Short | |
| Stan Bostic | NCC Vilma Rosario | |
| BMCM Chuck Robertson | FORCM CJ Mitchell | |
| MACS Brad Burke | QMCS Ken Larson | |
| BMC Damon Box | HMC Norman Powell | |
| ADC Albert Durso | MMC/SS Michael George | |
| RPC Ian Wakefield | CTTC Rocco Casucci | |
| ITC Gino Rullo | RMC Paul Douglas | |
| YNC Dioni Rosalas | HMC Scott Behrje | |
Minutes from the Previous Meeting. Motion to accept minutes as posted. Duly seconded and approved.
Treasurer's Report: Senior Chief Roy reported 3 outstanding checks.
Outstanding Deposit: $1,565
Checking Account balance: $9,692.09
Savings Account: $3,196.13
Money Market Account: $41,473.92
Total: $54,362.14
Duly seconded and approved. Note that dues are payable now.
Committees
Race: N/A
Scholarship: Awardees notified, and checks were sent. Thank you note from Miss. Erin Zasloff for the scholarship.
Philanthropy: N/A
Ship Liaison: USS Paul Ignatius commissioning went well and the CPO reception.
Sailor 360: Third week of the CPO season. Shock and Awe is tomorrow at 1300 in Fort Myers, uniform khakis with combo cover. Anchor auction is at the VFW on Aug 29th. Indoc is 6-8 Aug at NOSC Miami. Camp Blanding is 21-24 Aug. The South Florida CPOA will hold a bowling game at Manor Lanes. The game is scheduled for August 18 from 1400 -1600. Pinning ceremony at USSOUTHCOM on September 13th.
MWR:
October 13 Family Picnic
Oleta State River Park 3400 NE 163rd Street, North Miami Beach
1-305-919-1846
VA Liaison: Wait to Sept to vote on adding money to the VA pot.
Fund Raising: Need a committee member.
Awards: NTR
CRYC: NTR
Old Business:
Coast Guard member passed, details to follow.
Buck McTee had a loss in the family.
New Business:
Motion to buy $3,000 one-year CD at 3.5% rate and $15,000 18-month CD at 3.0%. Passed with 10 for and 4 against.
Brad Burke will be the MC for the Pinning ceremony.
All non-military guests must give their name to Dave Ribeiro by Aug 22nd.
Waiting on confirmation for pinning guest speaker.
Motion to commitment to 41 Panther games running concession from October-April, 11 per game, minimum age is 18 years old. Motion passed. Details to follow.
Good of the Order:
Tomorrow is USCG Birthday.
Motion to adjourn: 2059