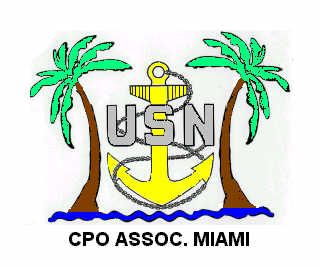 February, 2019 Meeting Minutes
Chief Petty Officers Association of Miami, Inc.
Thursday, February 7, 2019
Meeting called to order by Senior Chief Ron Zasloff: 1932.
Pledge of Allegiance, Sailor's Creed and Moment of Silence.
Officers:
Ø President: Ron Zasloff
Ø Vice President: Nick Hernandez
Ø Secretary: John Silva/Roxy Hall
Ø Treasurer: OSCS Ronald B. Roy, Retired
Ø Master-at-arms: Nick Niglio
Honorable members and guests present:
| | | |
| --- | --- | --- |
| UTCS(SCW) Ron Zasloff | QMCS Ken Larson | |
| CTOCS Alan Starr | YNCM Marc Fagenbaum | |
| OSCS Ronald Roy | ADC Albert | |
| ITCS Grisel Marrero | YNC Lyndonna Strain | |
| HMC Rick Tedlow | MACS Nicholas Hernandez | |
| HMC Norman Powell | Bernard Nachiwson | |
| ETC Nick Niglio | | |
| PSC Limalia JeanJacques | | |
| HMCS Jorge Herrera | | |
| BMCM CK Robertson | | |
| RMC Paul Douglas | | |
| NCC Sandra | | |
Minutes from the Previous Meeting. Motion to accept minutes as posted. Duly seconded and approved.
Treasurer's Report: Senior Chief Roy reported NO outstanding checks.
Checking Account balance: $13,156.16
Savings Account: $3191.30
Money Market Account: $41,289.30
Total: $57636.76
Duly seconded and approved. Note that dues are payable now.
NASCAR check was received $4725.55.
Spent $4740.00, $460 was donated from food and drinks.
NASCAR netted $400.00 after ALL was paid out.
Committees
Race :
NTR
Scholarship :
Applications are due NLT 30 Jun 2019, make sure transcripts are included. August is the vote for the winner. Husband/wife of active duty member and children can apply. All info is on the website.
Philanthropy:
Very Busy the last month, sick people and those passing away. Tony Acosta mom pasted away sent flowers. Funeral Elmorewood for Fabien and his wife. Flowers fro Fabien family in Chicago. 5 flowers to the family. Funeral Base for Uncle and brother of Stella Mallone; Korean vet 28 JAN19. Gave $100.00 to the CoastGuardsman who lost his wife. MK1, wrote a letter to thank the mess.
Sea Service Veterans Assistance:
VA Liaison Balance is $667.00. VA fund, commercial looking for way to help.
Bringing the balance back to $1000.00. Continue VA fund, 2 pending request awaiting information.
Question: How many people received funds since July?
Answer: 3
Ship Liaison:
Next meeting for Fleet Week is in January. No large deck slotted to come. Five Navy ships and three Coast Guard ships slotted to come. The Chief's reception is scheduled for the Tuesday of Fleet Week. Fleet Week 29 Apr-5 May.
Commissioning of DDG 117 Paul Ignatious will be July 21st, 2019. Chief's mess will be hosting and conducting a reception.
Fleet Week: meeting with Port Authority and Strikegroup2, and Navy Region SOUTHEAST. 5 ships; USS New York, USS Hue City, USS Farragut, LCS, SUB-TBD. 2 Coast Guard cutters, USS Mohawk another TBD.
Intitiation :
NTR
MWR:
Holiday party was a success, need to decide if we are going to continue to have at the same location. Need to decided if continue to have at Tropical Acres.
Key West has no rooms available for the time we wanted to go
16 FEB2019 Jungle Queen
*May murder mystery train, ticket and hotel FT Myers.
Next meeting ask about bowling excursion.
Awards :
NTR
CRYC:
Fleet week last years events were at the VFW. CRYC has not made the commitment suggest or motion to do it at the VFW if Paul or Ron official notification.
Old Business:
16 shirts at $20 each leftover from the season. $1600 was the cost, only $1425 recouped.
Fundraising POC is transferring in six months. Nothing scheduled at this time.
John Silva is having a hard time getting volunteers for fund raising a football events, will be serving food in the luxury box. Email will be sent.
New Business:
01APR2019 Chief's Bday. CPOA celebration in lieu of the meeting. Can still have the meeting, just a little before the party. VFW motion to have the Chief Ball or Bday Dinner; Motion to have 04 APR meeting a chief bday meal. $15.00 per person.
Discussion:
Will it be a Dinning in? Spouses and Significant Others? Work out Meeting Details
JJ- is the lead, motion to celebrate the Chief's Birthday in conjunction with the meeting.
What are we expecting? Total cost 80 people equals $2100.00 covered by the ticket sales.
No extra expense, if you want to attend celebration uniform will be khakis or business casual. Who is selling tickets and number of attendees? NRD took the lead, they will sell tickets, all we do is buy tickets. Motion was made. Motion was also made to add extra $5.00 for tickets. Consider it a fundraiser for the CPOA. (motion carried)
Need new source of income: (table it to next month)
Homestead Air Show: Opportunities.
Air show FT Lauderdale, blue angels this year, week after fleet week.
Grand Prix Downtown Miami- look to work it research viable source of income.
Race funds only brought in $400.00. Man hours/planning/arrangements 9 more months to go. Motion new sources or entity to take over the races or discontinue races as a whole. Lost $2K without the bar.
Discussion:
Do we get the Bar back? Spent $600.00 in shirts.
Coast Guard: contacted us for help. No money to give them NRD Miami raised close to $2000.00, Hardship Issues. Motion to set aside $625.00 to purchase 25/$25.00 gas cards.
Discussion:
Can we accommodate the Navy with the same request? (if it came up).
Motion carried.
Good of the Order:
Retiree's from the AREA facebook representing the VFW. Friends of the VFW Post and Auxliary 1966.

Motion to adjourn: 2047