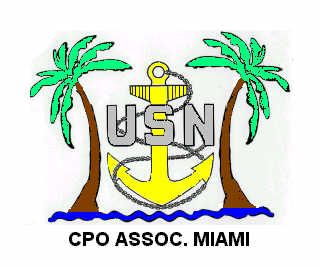 June 2019 Meeting Minutes
Chief Petty Officers Association of Miami, Inc.
Thursday, June 6, 2019

Meeting called to order by HMC Rick Tedlow : 1930.
Pledge of Allegiance, Sailor's Creed and Moment of Silence.
Officers:
Ø President: Ron Zasloff
Ø Vice President: Nick Hernandez
Ø Secretary: John Silva/Roxy Hall
Ø Treasurer: OSCS Ronald B. Roy, Retired
Ø Master-at-arms: Nick Niglio
Honorable members and guests present:
| | | |
| --- | --- | --- |
| HMC Rick Tedlow | MKC Donald Steffeson | |
| ISC Roxy Hall | AEC(A/C) David Cohen | |
| OSCS Ron Roy | CTOCS Alan Starr | |
| QMC John Rock Petroske | BMC Mike Short | |
| Stan Bostic | NCC Vilma Rosario | |
| BMCM Chuck Robertson | | |
| HMCS Jorge Herrera | | |
| QMCS Ken Larson | | |
| BTCM(SW) Paul LaCousierre | | |
| YNCM Marc Fagenbaum | | |
| ETC Rick Schuchman | | |
| ADJ-3 Harvey Cohen | | |
Minutes from the Previous Meeting. Motion to accept minutes as posted. Duly seconded and approved.
Treasurer's Report: Senior Chief Roy reported 1 outstanding check and 1 outstanding deposit.
Check # 1025 CPO Birthday cake for $58.27
Outstanding Deposit: $362
Checking Account balance: $13,963.95
Savings Account: $3,194.79
Money Market Account: $41,411.61
Total: $58,570.35
Duly seconded and approved. Note that dues are payable now.

Committees
Race: April or May, need to revote if approached to do it.
Scholarship: Applications must be submitted by June 30th
Philanthropy: Dawn Liverman from First Baptist Church sent thank you note for legacy fund for Nancy Schuchman.
Ship Liaison: Plans continue to move forward for the USS Paul Ignatius commissioning scheduled for July 27th, 2019. CPO reception July 23rd in Khakis/Combo covers. DDG 117 has 33 CPOs. Ceremony in summer whites, outdoors with no shade or fan. Mike Shirt presented cover and plaque.
Sailor 360: NTR

MWR: For trips sign up on the website!!!
Fishing July13th and July 20th :
Chasin Finz and Sport Fishing Charters
1000 N Ocean Drive Hollywood, FL 33019
754-800-9732
Rates:
$45 per person drift fishing
$85 per person sports fishing, six persons per boat for four hours ($500.00 per boat)
Murder Mystery Train Dinner:
2805 Colonial Blvd. Fort Meyers, FL 1-239-308-0886
Wed-Fri: $85.00 Per person
Sat: $90.00
One day package:
Marriott Hotel $286.00. Includes breakfast plus two tickets for dinner/show
Holiday Inn $253.00. Includes breakfast plus two tickets for dinner show.
Sign up on the website
Holiday Dinner at Tropical Acres. Voted for prime rib. Dec 21st in summer whites.
VA Liaison: NTR
Fund Raising: ITCS G Marrero voted in as fund raising committee chair.
Awards: NTR

CRYC: NTR
Old Business: NTR
New Business:
SOUTHCOM conducting SEAL Museum Sailor trip, motioned for $200 to feed the junior Sailors. Motioned passed.
Good of the Order: Vote proposed to scrub roster and have the VP be in charge of membership.
Next meeting July 11th due to holiday.
FEDVET education, dental/vision
Motion to adjourn: 2025