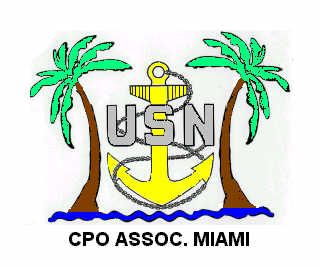 March, 2019 Meeting Minutes
Chief Petty Officers Association of Miami, Inc.
Thursday, March 7, 2019
Meeting called to order by Master Chief Robertson: 1932.
Pledge of Allegiance, Sailor's Creed and Moment of Silence.

Officers:
Ø President: Ron Zasloff
Ø Vice President: Nick Hernandez
Ø Secretary: John Silva/Roxy Hall
Ø Treasurer: OSCS Ronald B. Roy, Retired
Ø Master-at-arms: Nick Niglio


Honorable members and guests present:
| | | |
| --- | --- | --- |
| BMCM Chuck Robertson | QMCS Ken Larson | |
| CTOCS Alan Starr | YNCM Marc Fagenbaum | |
| OSCS Ronald Roy | ADC Albert | |
| ITCS Grisel Marrero | YNC Lyndonna Strain | |
| HMC Rick Tedlow | MACS Nicholas Hernandez | |
| HMC Norman Powell | Bernard Nachiwson | |
| | | |
| | | |
| HMCS Jorge Herrera | | |
| RMC Paul Douglas | | |
| | | |
| | | |
Minutes from the Previous Meeting. Motion to accept minutes as posted. Duly seconded and approved.
Treasurer's Report: Senior Chief Roy reported NO outstanding checks.
Checking Account balance: $17,519. 60
Savings Account: $3,192.56
Money Market Account: $41,317.81
Total: $62,029.97
Duly seconded and approved. Note that dues are payable now.
Nascar check was received $4725.55. Spent $4740.00, $460 was donated from food and drinks. Nascar is a lost. $400.00 was the total made after ALL was paid back.
Committees

Race : NTR
Scholarship :
Applications are due NLT 30 Jun 2019, make sure transcripts are included. August is the vote for the winner. Husband/wife of active duty member and children can apply. All info is on the website.
Philanthropy:
Mark Hagger read letters send to us.
HMCS Acosta flowers sent- no acknowledgement
Fabian- nothing send appreciated

Sea Service Veterans Assistance:
One Pending
Ship Liaison:
Fleet week meeting 22 MAR
5 Ships; Hue city, New York, Milwaukee, 2 Coast Guard Cutters
Guest Speaker is David Carter (FORCM)- cyber community
Newyork Strike group, Mike Stevens- MCPON 13.
No Yaucht club this year
Fleet Week Motion paid members only for the Chief's Reception. If not paid by the April meeting then you cannot attend the reception.
Fleet Week: meeting with Port Authority and Strikegroup2, and Navy Region SOUTHEAST. 5 ships; USS New York, USS Hue City, USS Farragut, LCS, SUB-TBD. 2 Coast Guard cutters, USS Mohawk another TBD.
DDG Poplups Nation -27July 2019

Intitiation :
NTR

MWR:
26MAR- Gateway ins and suites condos and trailers
Key West has no rooms available for the time we wanted to go 26-29 APR
14 FEB2019 Jungle Queen
*May murder mystery train, ticket and hotel FT Myers. 225 per person
Fishing Trip 100 pp dive water cheaper for reef.
Awards :
NTR
CRYC:
Old Business:
16 shirts at $20 each leftover from the season. $1600 was the cost, only $1425 recouped.
Fundraising POC is transferring in six months. Nothing scheduled at this time.
Money for shirts/ John Silva-has shirts. Cost of shirts in inventory. NRD paid balance of shirts
John Silva is having a hard time getting volunteers for fund raising a football events, will be serving food in the luxury box. Email will be sent.
01APR2019 Chief's Bday. CPOA celebration in lieu of the meeting. Can still have the meeting, just a little before the party. VFW motion to have the Chief Ball or Bday Dinner; Motion to have 04 APR meeting a chief bday meal. $15.00 per person.
Discussion:
Will it be a Dinning in? Spouses and Significant Others? Work out Meeting Details
JJ- is the lead, motion to celebrate the Chief's Bday in conjunction with the meeting.
What are we expecting? Total cost 80 people equals $2100.00 covered by the ticket sales.
No extra expense, if you want to attend celebration uniform will be khakis or business casual. Who is selling tickets and number of attendees? NRD took the lead, they will sell tickets, all we do is buy tickets. Motion was made. Motion was also made to add extra $5.00 for tickets. Consider it a fundraiser for the CPOA. (motion carried) Nothing will happen JJ was not there to speak about it and received no support or feedback.
New Business:
Sea Cadets BLS reimbursement asking for $625.00 25 ppl X $25.00 American heart association Basic life support.
Motion was for financial assistance – motion passed $625.00
Motion to keep the CPO Package the same as previous years: Motion passed
$650 in plaques
$500 in cigars
$195 plaques
$1756 bill
$300 post
Good of the Order:
Next meeting 04 APR 2019.
Motion to adjourn: 2027