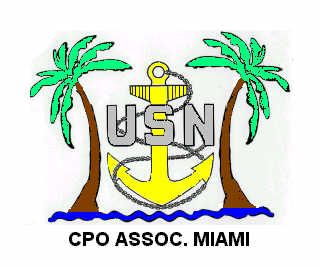 November 2019 Meeting Minutes
Chief Petty Officers Association of Miami, Inc.

Thursday, November 7, 2019
Meeting called to order by UTCS Ron Zasloff : 1935.
Pledge of Allegiance, Sailorís Creed and Moment of Silence.

Officers:
President: Ron Zasloff
Vice President: Nick Hernandez/Rick Tedlow
Secretary: John Silva/Roxy Hall
Treasurer: OSCS Ronald B. Roy, Retired
Master-at-arms: Nick Niglio
Honorable members and guests present:
| | | |
| --- | --- | --- |
| UTCS Ron Zasloff | QMCS Ken Larson | AEC (A/C) Dave Cohen |
| OSCS Ron Roy | PSC Righteous Alonzo | Rick Tedlow |
| BMCM Chuck Robertson | CTTC Rocco Casucci | CTOCS Alan Starr |
| YNCM Marc Fagenbaum | MMC Christopher Marcello | BMC Mike Short |
| BTCM(SW) LaCoursiere | MMC/SS Michael George | Pat Hughes |
| MKC Donald Steffenson | | |
| | | |
| | | |
Minutes from the Previous Meeting. Motion made and seconded to approve the October minutes.
Treasurerís Report:
BB&T Events: $1,181.75
Outstanding Deposit: None
Checking Account balance: $8,398.22
Savings Account: $3,198.15
Money Market Account: $26,538.83
CD: $15,103.75
Total: $53,238.95
Duly seconded and approved. Note that dues are payable now.
Committees
BB&T: We are short people to work the event next Thursday, 14 November. Volunteers are still needed for other workdays including Sunday, 24 November.
Awards: NTR
Scholarship: No one has applied yet as it's too early.
Philanthropy: Sympathy cards were sent to Shawn Hall's father-in-law and one other along with one get well card.
Ship Liaison: Ships will arrive for Fleet Week on 4 May. Our CPOA reception will be held on 5 May.
Yacht Club: This yearís CPOA reception will be held at the yacht club. Yacht rides will be on 6 May.
Sailor 360: NTR
MWR: Christmas dinner will be at 1800, 21 December at Tropical Acres. RSVP and additional info can be found on our web page.
Agreed to attend a showing of the movie Midway on a Saturday. Additional info to be determined.
VA Liaison: $200 was given to a veteran so he could get his medicine that was locked in storage with his personal effects. An addition request from a veteran who previously received funding from us was denied. So far 18 requests have been approved.
Awards: NTR
CRYC: NTR
Old Business: After much discussion, motions made, seconded and passed to:
a. Only give Publix gift cards out for Thanksgiving this year.
b. Give 2 $50 Publix gift cards to NOSC Miami and West Palm Beach.
c. Give 1 $100 Publix gift card to each Sea Cadets command, Airsta Miami and TACLET Miami.
BMCM Robertson has info on name tags. Contact him if you are interested in purchasing one.
New Business: A motion was made seconded and passed to wear khakis instead of whites at the Christmas dinner.
The following personnel were nominated to fill the positions indicated:
President: UTCS Ron Zasloff
Vice President: HMC Rick Tedlow
Treasurer: OSCS Ronald B. Roy
Secretary: Pat Hughes
Nominations will close at next monthís meeting.
Motion to adjourn: 2113