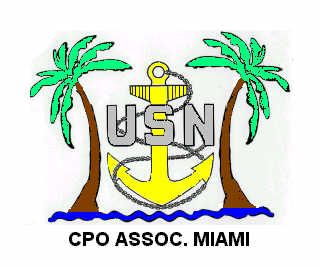 October 2019 Meeting Minutes
Chief Petty Officers Association of Miami, Inc.
Thursday, October 3, 2019
Meeting called to order by UTCS Ron Zasloff : 1931.
Pledge of Allegiance, Sailorís Creed and Moment of Silence.

Officers:
ō President: Ron Zasloff
ō Vice President: Nick Hernandez/Rick Tedlow
ō Secretary: John Silva/Roxy Hall
ō Treasurer: OSCS Ronald B. Roy, Retired
ō Master-at-arms: Nick Niglio
Honorable members and guests present:
| | | |
| --- | --- | --- |
| UTCS Ron Zasloff | MKC Donald Steffeson | |
| ISC Roxy Hall | HMCS Jorge Herrera | |
| OSCS Ron Roy | CTOCS Alan Starr | |
| ATC John Silva | BMC Mike Short | |
| HMCS Billini Benoi | HMC Norman Powell | |
| BMCM Chuck Robertson | BTCM(SW) LaCoursiere | |
| Rick Tedlow | QMCS Ken Larson | |
| RMC Paul Douglas | | |
| ADC Albert Durso | | |
| Pat Hughes | | |
| CTTC Rocco Casucci | | |
| MMC/SS Michael George | | |
Minutes from the Previous Meeting. No minutes from September.
Treasurerís Report:
Outstanding Deposit: None
Checking Account balance: $7,514.07
Savings Account: $3,197.40
Money Market Account: $26,518.56
CD: $15,065.83
Total: $52,295.86
Duly seconded and approved. Note that dues are payable now.
Committees
BB&T: Four trainings were scheduled, total of 18 have gone to training. Santa Foodís will have more trainings but they will not be at BB&T. First event is 8 Oct. Mike will send out email with details. The BB&T shirts are a turn in item. They are checked out the day of and returned after the event.
Scholarship: NTR
Philanthropy: NTR
Ship Liaison: Commissioning of USS Fort Lauderdale has been pushed another year 2021. 5K run on Hollywood Beach fund raiser:10% Wounded Warriors rest to Sea Cadets, on Sat 12 October 0730-1030. Dec 8 Pearl Harbor dinner Coast Guard Station Fort Lauderdale.
Sailor 360: NTR
MWR:
October 13 Family Picnic motion to cancel, passed.
Dec 21 1800 Christmas dinner Tropical Acres, Ron will send the email
VA Liaison: Motion to top up the funds with $841.90, passed.
Awards: NTR
CRYC: Possibility of having the CPO Fleet Week reception there, more to follow.
Old Business:
Need receipt from SOUTHCOM for the pinning ceremony refreshments.
New Business:
VFW wants to charge $100 a night to rent the space. Motion to move meetings to the sea cadet building, passed. Going forward we can look at other options.
Look into order more CPOA polo's and under armor shirts, Ron will get a quote.
Name tags havenít been ordered in a long time. Motion to get a quote, Chuck will get them.
Motion to give $200 to the Sea Cadet building fund, we will get a brick with our name, passed.
SOUTHCOM is having their Navy Birthday celebration at the CCA in khakis on 9 Oct 1100-1200.
Voting for officers will be next month.
Good of the Order:
Bass Pro shop gives 5% military discount including ammunition and firearms.
Motion to adjourn: 2024