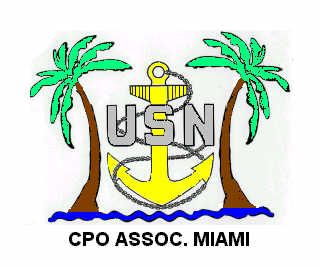 January 2020 Meeting Minutes

Chief Petty Officers Association of Miami, Inc.
Thursday, January 7, 2019
Meeting was called to order by Rick Tedlow: 19:30.
Pledge of Allegiance, Sailors Creed, followed by moment of silence.

Officers:
President: UTCS Ron Zasloff
Vice President: HMC Rick Tedlow
Secretary: Pat Hughes
Treasurer: OSCS Ronald B. Roy, Retired
Master-at-arms:
Honorable members and guests present:
| | |
| --- | --- |
| OSCS Ron Roy | BMC Mike Short |
| BMCM Chuck Robertson | HMC Rick Tedlow |
| YNCM Marc Fagenbaum | BMCM Chuck Robertson |
| BTCM(SW) Paul LaCoursiere | AEC(NC) R Cohen |
| QMCS Ken Larson | QMC Arthur Drago |
| MMC/SS Michael George | HMCS Jorge Herrera |
| HMC Norm Powell | CTTC Rocco Casucci |
| CTOCS Alan Starr | Pat Hughes |
Motion made by Robbie Robertson to accept minutes, seconded by Paul.
Treasurer's Report:
Ron gave report.
Outstanding check 1056 Holiday dinner $1867.17
Checking 47,715.01
Savings $3,199.49
MM $26,578.76
CD $15,178.65
Total $52,671.91
Committees
BB&T:
Michael George discussed the opportunity to work other events and stressed how important it is that each event be fully manned in order to continue working the hockey games. After much discussion it was decided to email/contact those that signed up for training and find out when they are going to participate. Everyone is encouraged to get your friends, neighbors, etc. involved.
Awards:
Retirement coming up for Roxy.

MWR:
Checking on trip to Key West and check on dates.

Scholarship – no report.


Philanthropy:
Norm gave kudos to Michael George for his efforts. Lots of get well cards and funeral wreaths.


Ships liaison:
Al Starr announcements:
1st meeting with Strike Group next Monday. No idea what ship will be here. Carrier strike group out of Norfolk will know after meeting Monday.

Broward Navy League trying to install USO here. First meeting January 23rd at 13:30.


Old Business:
Robbie reported that name tags were resolved.


New Business:
Chuck gave date/time/dress code for funeral on 1/10/20 at National Cemetery in Lantana.


Good of the Order:
Norm discussed two day air show scheduled in April in Homestead, are we interested in working it as an event.


Motion to adjourn:
Paul made motion to adjourn 20.55