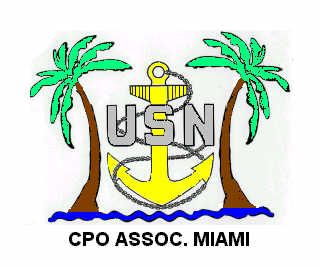 Meeting Minutes
Chief Petty Officers Association of Miami, Inc.
Thursday, May 6th, 2021
Officers:
President: BMCM Chuck Robertson, Retired
Vice President: HMC Tedlow
Secretary: LSCS(SW) Gary Rosenberg, now retired
Treasurer: OSCS Ronald B. Roy, Retired
Honorable members and guests present:
BMCM Chuck Robertson
OSCS Ronald Roy
LSCS(SW) Gary Rosenberg
YNCM Marc Fagenbaum
CMDCS Grissel Marerro
QMC AJ Drago
BMC(SS) Mike Short
MMC(SS)Michael George
CBCM Ronald Zasloff
BTCM Paul LaCoursiere
CMDCS John Briody
ATC Jeffery Hittenberger
ISCS Jazmine Farrior
- CPO birthday meeting was called to order by Master Chief Chuck Robertson at 1930.
Pledge of Allegiance and Moment of Silence followed by the Sailors Creed.
Chuck – welcome our new members Jeffery and John
- Minutes from the Previous Meeting. Motion to accept minutes as posted. Duly seconded and approved.
Treasurer's Report: agreed to pay $1,000 for the sea cadets building "not processed yet"
Checks outstanding; None
Outstanding deposit; $2,500 thank you Paul
Checking $9,041.64
Savings $3,210.16
MM $26,792.49
CD $15,702.28
Total $54,746.57
Motion to accept the treasurers report. Duly seconded and approved.
Committees:
· Awards – Chief Short, One award to present, presented Ron an award for serving two years as CPOA president.
· Scholarship – Chief Tedlow, those that are eligible put in by Jun 30th, requirements for yourself or children are on the website.
· Philanthropy – Chief Powell, The CPOA send condolence card and flowers to the family of Victor L. Merriman who passed April 25, 2021 in Nixa Missouri. Flowers in wreath form and in patriotic colors were sent to the Adam Funeral Home in Nixa for May 1 funeral service.
Victor is the brother to MACS Tanya Tyson who is stationed in Jacksonville, Fl.
A condolence card was sent to Senior Chief Tyson from the Chief Petty Officer Association.
The CPOA has also been in contact with Dave Cohen who suffered a fall recently. He is hospitalized and will be going to the John Knox Rehab center. CPOA will send out get well cards and stay in touch with wife Lorraine.
As always if you know of someone who is sick or in need of outreach, please let me know.
· Ship Liaison – Senior Chief Starr, NTR
· Fleet Week - NTR
· Season – CMDCS Briody, NTR
· CRYC – Master Chief Lacoursiere, Waiting for time to pass and ships to come in. Vinney is in the ICU.
· MWR – Chief Tedlow, Bowling, not during drill weekend, holiday dinner, are we ready? Yes from everyone present. Location is up in the air, possibly Tropical Acres.
· VA Liaison – Master Chief Robertson, NTR.
· Fund Raising – Chief George, NTR. Not invited back to BB&T yet, looking into FL race, the race will run for 10 years. Hard rock NFL possibility, main issue is getting bodies to participate. Raffles at the legion, If you vote to do fundraising you need to participate! Commands come for help but need to participate in fundraising and money should come to the CPOA since we give money to all commands. Need contact from all commands.
Old Business:
· NTR
New Business:
· NTR
Good of the Order:
· 50/50 raffle after the meeting for $1
· Chuck explained how we spend money on sailor hardships, ect.

Motion to adjourn: 2020
//SIGNED//
LSCS Gary Rosenberg
MIAMI CPOA Secretary