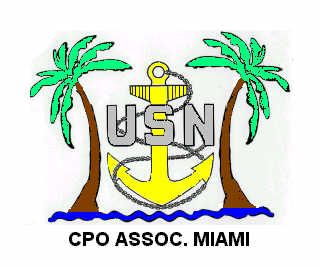 Meeting Minutes
Chief Petty Officers Association of Miami, Inc.
Thursday, August 11, 2022
Officers:

President: BMCM Chuck Robertson, Retired
Vice President: Billini Benoit, Active
Secretary: QMC Arthur Drago. Retired
Treasurer: OSCS Ronald B. Roy, Retired
Honorable members and guests present:
| | |
| --- | --- |
| Rank | Name |
| | |
| BMCM | Chuck Robertson |
| QMC | Arthur Drago |
| OSCS | Ron Roy |
| CMDCS | John Briody |
| LSCS | Gary Rosenberg |
| MACS | Brad Burke |
| YNCM | Marc Fagenbaum |
| CTOCS | Al Starr |
| QMC | John Petroske |
| HMC | Rick Tedlow |
| NCC | Buck McTee |
| MACM | Tanya Tyson |
| QMCS | Ken Larson |
| BMC | Michael Short |
| BTCM | Paul Lecoursiere |
| HMCS | Jorge Herrera |
| DTC | Richard Drainville |
| HMC | Norm Powell |
CPOA meeting was called to order by BMCM Chuck Robertson at 1930.

Pledge of Allegiance and Moment of Silence followed by the Sailors Creed.

Chuck – welcomed our new members or returning, DTC Richard Drainville.
Minutes from the Previous Meeting. Motion to accept minutes as posted. Duly seconded and approved.
Treasurer's Report:
Checks outstanding; check $600 for booze from the USS Ft. Lauderdale Chief's reception
Outstanding deposit; None
Amounts in ( ) are the net change from the previous month.
Checking $14,065.67 (-$2,715.86)
MM $16,931.87 (+$6.47)
CD $15,803.39 (+9.06)
Total $49,510.32 (-$2,700.33)
Motion to accept the treasurer's report. Duly seconded and approved.

Committees:


· Awards – Chief Short , NTR
· Scholarship – Chief Tedlow,
Received an email from Kayleigh McGovern thanking us for the
scholarship she received.


· Philanthropy – Chief Powell,
Chief Powell thanked us for our well wishes for his wife who
is recovering well from knee surgery.
· Ship Liaison – Senior Chief Starr
Senior Chief Starr thanked us for the USS Fort Lauderdale reception at the
VFW. He mentioned the hard work and dedication of Chief Chuck Black
for helping make the naming of a ship after our city of Ft. Lauderdale a reality.
· Fleet Week – NTR


· Season – CMDCM Briody,
CMDCM Briody advised, normal tracking for the season so far. NRC is losing one
and gaining one selectee. September 1 will be his official turnover as SEL. Final night
should be Oct 20 with Oct 21 pinning and Khaki ball October 28th.


· CRYC – Master Chief LaCoursiere - NTR


· MWR – HMC Rick Tedlow
o Bowling on September 25th 1400-1600. Manor Lanes in Wilton Manors. Event with
selectees. Fees paid members and selectees are paid by the CPOA, guests $10.00.
o Possible Fishing outing tabled.
o Key West trip tabled.
o Chief Tedlow proposed another breakfast at Too Jay's in Dania. Date and time TBD.


· VA Liaison – Master Chief Robertson,
Master Chief Robertson is donating $200 towards a sailor who is behind on his rent by $263.99.


· Fund Raising – Chief George, NTR


· Old Business:
Charter bus to the Navy vs. UCF game was discussed. LSCS Rosenburg has agreed to find out
all the particulars and report to Master Chief Robertson.


· New Business:
o Master Chief Tyson thanked the Mess for initiating and accepting her in 2011 and was
grateful for all the Mess has done for her. She presented the Mess with a limited numbered
artist print of the USS Ft. Lauderdale.
Master Chief Robertson accepted on behalf of the Mess and will have it framed.


o Chief McTee proposed to have joint season activities with other Messes. Master Chief Briody
is already in contact with WPB SEL.


o Master Chief Briody made motion to change the September CPOA meeting to September 10
at NRC (1630). Motion seconded and passed. Get together afterwards at Bokampers in Miramar
is tentative. MACS Burke will confirm. Uniform: Khaki's or civies (CPOA shirt recommended).
Significant others welcome.


o Clarification for the approved $500 for uniform fitting trip to Key West. The funds are going for
meals and campsite expenses.


Good of the Order: NTR


Future drill dates: 15-16 Oct, 5-6 Nov.


Motion to adjourn: Duly seconded and passed at 2022.
//SIGNED//
QMC (ret) Arthur Drago
MIAMI CPOA Secretary