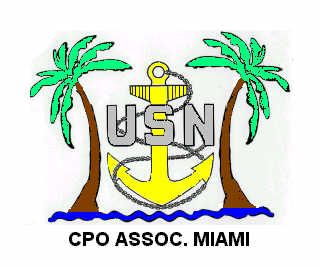 Meeting Minutes
Chief Petty Officers Association of Miami, Inc.
Thursday, July 14, 2022
Officers:

President: BMCM Chuck Robertson, Retired
Vice President: Billini Benoit
Secretary: LSCS Gary Rosenberg, Retired
Treasurer: OSCS Ronald B. Roy, Retired
Honorable members and guests present:

LSCS(SW) Gary Rosenberg
HMCS Billini Benoit
CBCM Ron Zasloff
OSCS Ron Roy
CMDCS John Briody
MACS Brad Burke
CMDCS Juan Ramirez
YNCM Marc Fagenbaum
CTOCS Al Starr
MMC Chris Marcello
HMC Rick Tedlow
NCC Buck McTee
MACM Tanya Tyson
QMCS Ken Larson
BMC Michael Short
CPOA meeting was called to order by HMCS Billini Benoit at 1930.

Pledge of Allegiance and Moment of Silence followed by the Sailors Creed.

Billi – welcome our new members or returning, Chris, Tonya and Buck from West Palm and
Juan the new CMDCS for the NRC

Minutes from the Previous Meeting. Motion to accept minutes as posted. Duly seconded and approved.
Treasurer's Report:
Checks outstanding; check 1099 $260 for awards / plaques
Outstanding deposit; None
Checking $16,781.53
MM $16,925.40
CD $15,803.39
Total $49,510.32
Motion to accept the treasurer's report. Duly seconded and approved.

Committees:

Awards – Chief Short, NTR

Scholarship – Chief Tedlow,
Approved 2 scholarships, Sofia and Kayleigh.
Received an email from Erin Zasloff thanking us for the scholarship she received the previous years.
Philanthropy – Chief Powell,
CPOA sent our Get Well cards to Marc Fagenbaum who had a knee replacement.
He sent out a Get Well card to Heather Tedlow who had outpatient surgery. She is the daughter of HMC Rick Tedlow.
· Ship Liaison – Senior Chief Starr
USS Fort Lauderdale reception at the VFW. Voted for $1,000 for food and $500 on the bar approved.
Fleet Week – was a success and everyone had a great time.
· Season – CMDCM Briody,
Billi is the season lead, The results will be out on Monday. NRC will merge with SOUTHCOM for specific events during
season. Final night should be Oct 20 with Oct 21 pinning and Khaki ball October 28th. Approved for $500 for uniform
fitting trip to Key West.
· CRYC – Master Chief LaCoursiere - NTR
· MWR – HMC Rick Tedlow
Bowling on September 25th.Posible Fishing outing and a Family event with selects.
· VA Liaison – Master Chief Robertson, NTR
· Fund Raising – Chief George,
Not invited back to BB&T yet, looking into F1 race, the race will run for 10 years. Hard rock NFL possibility, main issue
is getting bodies to participate. Opportunity at post 92 one Sunday a month from 1 – 5 to deal bar poker. Raising about
$100. Each time.
Old Business: No old business
New Business:
Possible Charter bus one day trip to go see the Navy vs UCF game.
Good of the Order: NTR
//SIGNED//
LSCS(ret) Gary Rosenberg
MIAMI CPOA Secretary