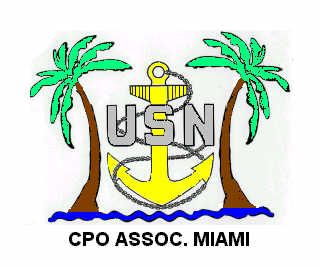 Meeting Minutes
Chief Petty Officers Association of Miami, Inc.
Thursday, June 09, 2022
Officers:
President: BMCM Chuck Robertson, Retired
Vice President: Billini Benoit
Secretary: Absent
Treasurer: OSCS Ronald B. Roy, Retired
Members and guests present:
HMC (FMF) Scott Behrje
HMC Norm Powell
Ted Tedlow
George Herrera
Arthur Drago
Ira Paul
Mike Short
1930: Meeting begins
1933: Motion made to accept minutes by George Herrera. It was seconded and voted to approve.
Treasurer's Report: No outstanding checks or deposits
Checking account: $17,441.39
Money market account: $16,919.14
CD: $15,796.25
=========
Total: $50,156.78
Fleet Week brought in $15,955 which included $355 from 50/50 raffle done at event. So, 15,955 our total expenses were $13,444.62 which left us with a profit of $2510.38. On the Coral Ridge Yacht Club side.

Our tips for the staff were $1614.00 the food that it costs us for that event was $6480. The labor from the staff that worked the event was $450. The alcohol we got charged $855. The letters that went out, we spent $430 for. The gift bags. We spent $506.00 what the gift bags. We paid the DJ $1000 so on the Coral Yacht Club side we spent $11,335.

On our side of the house, we spent $1,250 for the T shirts, we spent $400 on plaques. The cigars were donated. And we spent $460 on the ship's coins which got handed out that night to the donors that spent more than $500 on tickets. So, on our side of the house there was $2110, so the grand total that we spent was $13,445. We netted $2,510.

At 1943 : motion made to accept treasurers report. All in favor with no one apposed. Motion is passed.

Committees:
· Awards – Chief Short, NTR
· Scholarship – Chief Tedlow: No application received. Apply by June 30th, 2022.
· Philanthropy – Chief Powell, card sent out for a Chief who a complete knee replacement. (recording did not get name)
· Ship Liaison – Senior Chief Starr, NTR
· Fleet Week – was a success and everyone had a great time.
· Season – Billini Benoit: Results come out July 18. Season NRC, Miami and SOUTHCOM
will be working together. Active duty comes out September 6. SOUTHCOM has venue picked out for Khaki Ball with price being no more $90 per ticket to include open bar, food, and DJ. Discount price for hotel room.
· MWR – The Jungle Queen was a bust because only two people went. Top Gun. OK, it's the movie theater that we picked shifted because we could not get a commitment from management or the newspaper as to what time the. So, we're going to go to Regal Oakwood. Bowling with the selects will occur during season. Date will be presented at next meeting. Holiday dinner will be at Tropical Acres. There are only two dates available in December and it's only Friday the 9th or Saturday the 16th. A vote was conducted and Saturday the 16th won for holiday dinner. University of Central Florida plays Navy in Orlando on November 19. Billini will organize a joint effort with CPOA Orlando. John Briody will give details on Family Day at NRC. It is scheduled for July 10th.
· VA Liaison – Master Chief Robertson, NTR
· Fund Raising – NTR
Old Business: No old business
New Business:
· NRC is Having Family Day on Sunday July 10th at 10am CAPO is invited.
Good of the Order:
· Motion made by Mike to invite Caroline Greenlaw to the dinner and buy her an appropriate plaque. Motion was second and all were in favor with none apposed. Invite Edward Soto who works with Veterans Affairs to speak to the CPOA in August meeting.
Motion made to adjourn at 2022, it was seconded with all in favor and none opposed.
//SIGNED//
LSCS (ret) Gary Rosenberg
MIAMI CPOA Secretary