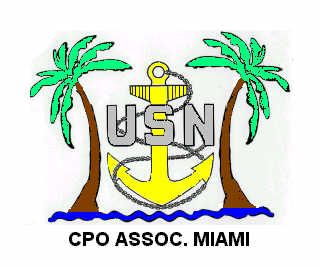 Meeting Minutes
Chief Petty Officers Association of Miami, Inc.
November 10, 2022 Minutes
Officers:

President: BMCM Chuck Robertson, Retired
Vice President: HMCS Billini Benoit
Secretary: QMC Arthur J. Drago, Retired
Treasurer: OSCS Ronald B. Roy, Retired
Honorable members and guests present:



| | | |
| --- | --- | --- |
| Rank | Name | Initial |
| | | |
| BMCM | Chuck Robertson | P |
| HMCS | Billini Benoit | P |
| QMC | Arthur Drago | P |
| MACS | Brad Burke | P |
| OSCS | Ron Roy | P |
| HMC | Rick Tedlow | P |
| LSCS | Gary Rosenberg | P |
| ISC | Matthew Layton | P |
| QMCS | Ken Larson | P |
| BTCM | Paul LaCoursiere | P |
| CMDCS | Juan Ramirez | P |
| YNCM | Marc Fagenbaum | P |
| ISC | Jessica Aguirre | P |
| HMC | Scott Behrje | P |
| BMC | Michael Short | P |
| HMC | Pamella Washington | P |
CPOA meeting was called to order by BMCM Chuck Robertson at 1930

Pledge of Allegiance and Moment of Silence followed by the Sailors Creed.

Chuck – welcomed our new members or returning:
PSC Jessica Aguirre – 1st meeting after having been accepted. She was happy to attend.
Minutes from the Previous Meeting. Motion to accept minutes as posted. Duly seconded and approved.
Treasurer's Report:
Checks outstanding; Chk#1108 for $1,000 for BM2 Rodriguez
Outstanding deposit; None
Checking $12,572.02
MM $16,951.75
CD $15,889.22
Total $45,412.99
Motion to accept the treasurer's report. Duly seconded and approved.
Committees:


· Awards – Chief Short
Carolyn Greenlaw will be presented an award at the holiday party.
· Scholarship – Chief Tedlow, - NTR
· Philanthropy – Chief Powell
Get well card was sent to Al Starr –He's doing better.
· Ship Liaison – Senior Chief Starr – NTR
· Fleet Week – NTR
· Season – HMCS Billini
All selectees were accepted. Jessica commented that the Khaki Ball was fun.
· CRYC – Master Chief LaCoursiere –
First meeting with the CRYC will take place in January.
· VA Liaison – BMCM Chuck Robertson - NTR
· MWR – HMC Rick Tedlow (Information reported by Chuck and AJ)
o Key West trip – March 17-20, 2023
o Lodging suggestions available: Townhouses, Fly Navy, Navy Lodge. An email with the lodging information has been disseminated and the information will be posted online as well.
Chuck mentioned that the townhouses were already booked but encouraged everyone to keep trying in case of cancelation.
February 17 is the first day where the Navy Lodge and the Fly Navy locations can be booked.
o Holiday Dinner: $25 per person (Must sign up online)
o Pay options: paypal, online, at the door
Date /Time: December 17 at 1800
Location: Tropical Acres Restaurant – 2500 Griffen Rd Ft. Lauderdale, Fl 33312
Dress: Yes please!
Anchors: Khaki's
Partners / guests: cocktail party attire.
There will be a White Elephant gift exchange during the event. The gift should have an approximate $25 value. Jessica will assist Rick with coordinating and organizing the gift exchange.
o Navy vs. UCF football game – November 19. 2022.
o AJ has reserved and purchased 10 tickets. 10 tickets are accounted for.
o Tailgating on campus before the game. Food and drinks under tent.
o Attendees:
§ Chief Tedlow + 1
§ Chief Drago + 4
§ Chief Palacios + 3
§ Chief McTee + 5
Possible meet and greet Navy football coach
o Cruise
o Margaritaville Cruise possible weekend dates: June 16 or June 30 – Friday through Sunday
o When booking 8 staterooms or more, you must book online and try to book close to the same time so we'll be considered a group. This will help the possibility of sitting together at dinner.
o Pam will be taking on comparing cruise options for the Mess. She has a point of contact at NCL as well as Chief Select Middleton works for one of the cruise lines. Chuck has asked Pam to provide several cruise date options.
o Members interested in the cruise: Robertson +1, Roy +1, Marcello +1, Tedlow +1, Seche, Powell +1, Herrera +1, Drago +1, LaCoursiere+1. Pam, Jessica, Matt.
· Old Business: Veterans appreciation day at NRC went very well. Chuck and Norm attended.
· New Business
Nominations: Secretary: AJ, Chuck
Treasurer: Ron (voted and accepted)
VP: Chuck, Pam, Billi
President: Billi, Pam
Discussion: VP has historically been back-up for Treasurer. VP has also been identified as the position who handles membership.
Chuck asked Paul to Chair a bi-laws committee to identify proper officer descriptions with roles and responsibilities. Paul accepted and agreed to report back to the officers by the February 2023 meeting.
Motion by Juan Ramirez to donate $1000 to LS1 Bowden, a reservist at NRC. Discussion was lengthy as the facts were not clear and the motion was later amended to donate $1000 in Publix gift cards. The cards would be handed to Juan as the NRC SEL and at his discretion, he would provide the sailor the gift cards as warranted. Motion was seconded and passed
Good of the Order:
Ron Zasloff will be having his retirement ceremony on December 3 from 1400-1600 at the National Guard Base in Miramar (5001 Flamingo Rd, Miramar, FL 33025). Uniform: Khakis
Florida Chief Petty Officer Association will have its annual meeting in Daytona Beach, April 2023.
Motion to adjourn: Duly seconded and passed at 2052.
//SIGNED//
QMC (ret) Arthur Drago
MIAMI CPOA Secretary