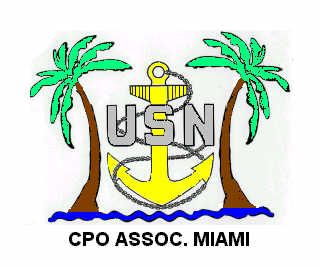 Meeting Minutes
Chief Petty Officers Association of Miami, Inc.
October 13, 2022 Minutes
Officers:

President: BMCM Chuck Robertson, Retired
Vice President: HMCS Billini Benoit
Secretary: QMC Arthur J. Drago, Retired
Treasurer: OSCS Ronald B. Roy, Retired
Honorable members and guests present:

| | | |
| --- | --- | --- |
| Rank | Name | Initial |
| | | |
| BMCM | Chuck Robertson | P |
| HMCS | Billini Benoit | P |
| QMC | Arthur Drago | P |
| CBCM | Ron Zasloff | P |
| OSCS | Ron Roy | P |
| CMDCS | John Briody | P |
| LSCS | Gary Rosenberg | P |
| ISC | Matthew Layton | P |
| CMDCS | Juan Ramirez | P |
| YNCM | Marc Fagenbaum | P |
| HMC | Nicholas Creary | P |
| RMCS | Wizard White | P |
| HMC | Scott Behrje | P |
| MAC | Natalie Arroyo | P |
| BMC | Michael Short | P |
| LSC | Peter Henry | P |
| ABCM | Miguel Sweeney | P |
| HMC | Norm Powell | P |
| HMC | Pamela Washington | P |
| MC1 | Natalia Murillo | P |
| HM1 | Eric Negron | P |


Pledge of Allegiance and Moment of Silence followed by the Sailors Creed.

Chuck – welcomed our new members or returning,
Wizard White, HMC Nick Creary, 1st yr, LSC Matt Layton, CMDCS Juan Ramirez SEL Miami
Minutes from the Previous Meeting. Motion to accept minutes as posted. Duly seconded and approved.
Treasurer's Report:
Checks outstanding; None
Outstanding deposit; None
Amounts in ( ) are the net change from the previous month.
Checking $13,0865.91 (-$199.88).
MM $16,944.60 (+$6.26).
CD $15,861.18 (+27.09).
Total $46,671.69 (-$166.53).
Motion to accept the treasurer's report. Duly seconded and approved.
Special guests:
HM1 Eric Negron, MC1 Natalia Murillo
<![if !vml]>
<![endif]><![if !vml]>
<![endif]>HM1 and MC1 are drilling reservist at NRC Miami. They came to the CPOA to propose a Veterans Day recognition event to be held at 0945 during the Sunday, November 6th drill at NRC Miami. Veterans, both retired and currently serving will be recognized and CPOA members will have some time to share his/her story and experiences. 1st class petty officers will also have an opportunity to mingle with CPOA members for guidance and instruction. MC1 works at the VA.

Committees:

· Awards – Chief Short, NTR
· Scholarship – Chief Tedlow, - NTR
· Philanthropy – Chief Powell,
o Get well card sent to Sr. Al Starr
o Dave Cohen is doing better
· Ship Liaison – Senior Chief Starr – NTR
· Fleet Week – NTR
· Season – HMCS Billini,
HMCS Billini advised of the following dates and evolutions:
o October 15 – The Selects will be running the Honor Courage and Commitment Sea Cadet 5K run in Hollywood Beach – Immediately after the run, the Select team building exercises will take place on the beach. West Palm to participate. Pride shirts for Genuines. (Run starts at 0730 - Bring your sunblock and water)
o October 20 – Final night
o October 21 – Pinning 0900
o October 28 – Khaki Ball
Billi presented the Mess with the Season participation packages. Posted on website.
There will be a shuttle between the hotel and the Intercontinental Doral (Khaki Ball).
The NRC cash app can be used to purchase tickets.
Final night –
Anchors in the sand – 1600: White Hat – Sunset at CG Base Ft. Lauderdale: Wake up arrival 0430 at NRC Miami (enter through west gate): Acceptance - sunset
· CRYC – Master Chief LaCoursiere - NTR
· MWR – HMC Rick Tedlow (Information reported by Chuck and AJ)
o Key West trip – March 17-20, 2023
o Lodging suggestions available: Townhouses, Fly Navy, Navy Lodge. An email with the lodging information has been disseminated and the information will be posted online as well.
o Navy vs. UCF football game – November 19. 2022.
o AJ has reserved and purchased 10 tickets. 9 tickets are accounted for. The van will be cancelled as all the participants will be driving POVs.
o Cruise
o Pam will be taking on comparing cruise options for the Mess. She has a point of contact at NCL as well as Chief Select Middleton works for one of the cruise lines. Chuck has asked Pam to provide several cruise date options.
o Members interested in the cruise: Robertson +1, Roy +1, Marcello +1, Tedlow +1, Seche, Powell +1, Herrera +1, Drago +1
· Old Business: NTR
· New Business
o A Motion to donate $1500 to BM2 Eddy Rodriguez, a Navy reservist attached to CHB Tampa, living in Sanibel Island by Brad over the phone to Chuck. This sailor's home was affected by Hurricane Ian and needs assistance. Chuck mentioned that the usual donation for humanitarian work is $1,000 and the motion was amended to reflect $1,000.
§ Motion was seconded and passed
A donation of $150 worth of needed household supplies, water and food was delivered to Chief Bennet whose home was also affected by the hurricane.
Good of the Order:
Chuck noted that CPOA officer nominations will be held in November and December 2022 with the final vote in December 2022.
Juan advised that NRC Miami and WPB are trying to put together a "Dining In" on or around April 1st. Uniform will be service dress blues.
Pam suggested that all the officers have an assistant for mentorship and continuity.
Ron Zasloff will be having his retirement ceremony on December 3 from 1400-1600 at the National Guard Base in Miramar (5001 Flamingo Rd, Miramar, FL 33025). Uniform: Khakis
Motion to adjourn: Duly seconded and passed at 2058.
//SIGNED//
QMC (ret) Arthur Drago
MIAMI CPOA Secretary